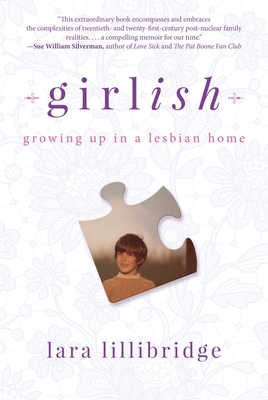 Girlish
Growing Up in a Lesbian Home
Hardcover

* Individual store prices may vary.
Description
***Finalist, 2018 Foreword INDIES Book of the Year Awards, LGBT Adult Nonfiction category***

***Award-Winning Finalist, 2018 Best Book Awards sponsored by American Book Fest, LGBTQ Non-Fiction category***

An honest, unfiltered memoir about a girl with an unconventional family.

"The story everyone wants to hear isn't the story I want to tell." Lara Lillibridge grew up with two moms—an experience that shaped and scarred her at the same time. Told from the perspective of "Girl," Lillibridge's memoir is the no-holds-barred account of childhood in an atypical household. Personally less concerned with her mother's sexuality and more with how she fits into a world both disturbed and obsessed with it, Girl finds that, in other people's eyes, "The most interesting thing about me is not about me at all; it is about my parents."

It won't be long before readers realize that "unconventional" barely scratches the surface. In the early years, Girl's feminist mother reluctantly allows her to play with her favorite Barbies while her stepmother refuses to comfort her when she wakes up from nightmares. She goes skinny dipping on family vacations in upstate New York and kisses all the boys at church. Girl and her brother travel four thousand miles—unaccompanied—to visit their father in rural Alaska, where they sleep in a locked cabin without running water, telephone, or electricity. Raised to be a free spirit by norm-defying parents, Girl has to define her own boundaries as she tries to fit into heteronormative suburban life, all while navigating her mother's expectations, her stepmother's mental illness, and her father's serial divorces.

Lillibridge bravely tells her own story and offers a unique perspective. At times humorous and pithy while cringe-worthy and heartbreaking at others, Girlish is a human story that challenges readers to reevaluate their own lives and motivations.
Praise For Girlish: Growing Up in a Lesbian Home…
***Finalist, 2018 Foreword INDIES Book of the Year Awards, LGBT Adult Nonfiction category***

***Award-Winning Finalist, 2018 Best Book Awards sponsored by American Book Fest, LGBTQ Non-Fiction category***

"Lillibridge's story is not told in first person nor does she ever use her name, referring to herself throughout simply as 'Girl.' This lends an almost clinical air to the story, which, Lillibridge writes, is not the one everyone wants her to tell. . . . and, besides, she concludes, 'I want to be the most interesting character in my own story.' And so she is." —Booklist

"Stark, moving, and filled with rays of light, Lara Lillibridge's memoir of growing up in a dysfunctional lesbian home takes readers far beyond names and labels into the heart of what it means to be 'family.' Written through the eyes of a girl gifted with wit, courage, and wisdom far beyond her years, Girlish is a troubling yet hopeful story of brokenness, resilience, and love." —Foreword Reviews

"This extraordinary book encompasses and embraces the complexities of twentieth- and twenty-first-century post-nuclear family realities. . . . This is the great strength of Girlish, a compelling memoir for our time." —Sue William Silverman, author of Love Sick and The Pat Boone Fan Club

"I don't know what's more surprising—the aching originality of Lillibridge's prose, or how funny this story about a truly dysfunctional family manages to be. Refusing to fall into one category, Girlish is brave, unruly, and startling in its freshness." —Courtney Maum, author of Touch and I Am Having So Much Fun Here Without You

"Lara Lillibridge's debut memoir shines. Girlish is a gripping coming-of-age story, one of an extraordinary childhood but, yet, also one of a child wishing she could just be more ordinary. Lara tells her story with incredibly vivid detail. It has laugh-out-loud moments, and it has moments of heart-pounding suspense. I was completely immersed: Her family and her experiences became my own as I turned page after compelling page. Girlish is a story that you will not soon forget." —Donna Talarico, founder and publisher, Hippocampus Magazine

"Quirky and poignant, Girlish is equal parts jaunty and heartbreaking as Lillibridge turns her keen eye and brilliant prose toward an unconventional childhood and her attempts to navigate the tricky waters and mixed messages about what it means to be female in a family and culture that veer wildly between openness, secrecy, and shame." —Sonja Livingston, author of Ghostbread

"Lillibridge's Girlish is a lyrical, literary memoir that explores what it means to be human—to be flawed, to be failed, and to be fond—by recalling her difficult childhood and examining her life now, as an adult." —Sarah Einstein, author of Mot: A Memoir and Remnants of Passion
Skyhorse, 9781510723917, 364pp.
Publication Date: April 3, 2018
About the Author
Lara Lillibridge sings off-beat and dances off-key. She is a graduate of West Virginia Wesleyan College' s MFA program in creative nonfiction. In 2016, she won the Slippery Elm Literary Journal' s Prose Contest, American Literary Review' s Creative Nonfiction Contest, and was a finalist in both Black Warrior Review' s Nonfiction Contest and Disquiet' s Literary Prize in Creative Nonfiction. Lara resides in Cleveland, Ohio.
or
Not Currently Available for Direct Purchase