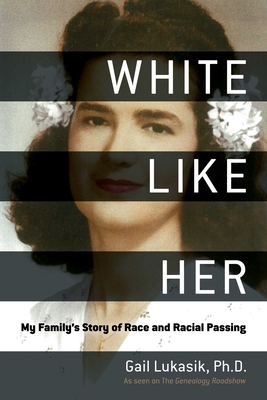 White Like Her (Hardcover)
My Family's Story of Race and Racial Passing
Skyhorse, 9781510724129, 316pp.
Publication Date: October 17, 2017
* Individual store prices may vary.
Description
As seen on The Today Show! "Important in helping us understand America's complex racial history."—Kenyatta D. Berry, Host of PBS's Genealogy Roadshow

White Like Her: My Family's Story of Race and Racial Passing is the story of Gail Lukasik's mother's "passing," Gail's struggle with the shame of her mother's choice, and her subsequent journey of self-discovery and redemption.

In the historical context of the Jim Crow South, Gail explores her African-American mother's decision to pass, how she hid her secret even from her own husband, and the price she paid for choosing whiteness.

Haunted by her mother's fear and shame, Gail embarks on a quest to uncover her mother's racial lineage, tracing her family back to eighteenth-century colonial Louisiana. In coming to terms with her decision to publicly out her mother, Gail changed how she looks at race and heritage.

With a foreword written by Kenyatta Berry, host of PBS's Genealogy Roadshow, this unique and fascinating story of coming to terms with oneself breaks down barriers.
About the Author
Kenyatta D. Berry began her genealogical journey whilst in law school studying at the State Library of Michigan in Lansing. A frequent lecturer, writer and television personality, Berry focuses on African American Genealogy, Slave Ancestral Research, and DNA. She has been featured in numerous publications, most notably, Black Enterprise and Wall Street Journal. Berry serves as the 2019 Honorary Chair of Preservation Week for the American Library Association.
 
Berry is also the host of Genealogy Roadshow, which is generating quite the buzz surrounding her expertise in the field of genealogy by colleagues and supporters. She consistently surprises and inspires people across the nation with information about their lives that they may not otherwise have access to. As the demand grows for people to learn more about their lineage and DNA, Berry remains deeply engrossed in her pursuit of knowledge and uses it to continually educate and inform. She lives in Santa Monica, California.
Praise For White Like Her: My Family's Story of Race and Racial Passing…
"Lukasik takes us inside her family story, revealing that her own mother chose to live as a white woman. Lukasik, bravely and eloquently, writes with a researcher's eye and a daughter's heart. In righting her own history, Lukasik graciously affords us the opportunity to right our own." —Goldie Taylor, editor-at-large of the Daily Beast
"Meticulously researched . . . Offers new insights into issues surrounding the complex history of racial passing in the United States . . . a narrative made compelling by her deeply felt emotional responses as she excavates her own heritage. This is a book which will elicit much discussion among diverse audiences, adding, as it does, to the too often elusive American tapestry." —Ronne Hartfield, author of Another Way Home: The Tangled Roots of Race in One Chicago Family

"Important in helping us understand America's complex racial history . . . Adds to the ongoing conversation about race and racial identity in America because it looks at the ramifications of institutionalized racialism and racial passing through one family's story." —Kenyatta D. Berry, Host of PBS's Genealogy Roadshow

"In White Like Her, Lukasik, with the persistence and canniness of the sleuths as the detective novelist she sometimes impersonates, explores how complicated race is in America." —Randy Fertel, author of The Gorilla Man and the Empress of Steak: A New Orleans Family Memoir

"Lukasik takes us inside her family story, revealing that her own mother chose to live as a white woman. Lukasik, bravely and eloquently, writes with a researcher's eye and a daughter's heart. In righting her own history, Lukasik graciously affords us the opportunity to right our own." —Goldie Taylor, editor-at-large of the Daily Beast
"Meticulously researched . . . Offers new insights into issues surrounding the complex history of racial passing in the United States . . . a narrative made compelling by her deeply felt emotional responses as she excavates her own heritage. This is a book which will elicit much discussion among diverse audiences, adding, as it does, to the too often elusive American tapestry." —Ronne Hartfield, author of Another Way Home: The Tangled Roots of Race in One Chicago Family
"Important in helping us understand America's complex racial history . . . Adds to the ongoing conversation about race and racial identity in America because it looks at the ramifications of institutionalized racialism and racial passing through one family's story." —Kenyatta D. Berry, Host of PBS's Genealogy Roadshow
"In White Like Her, Lukasik, with the persistence and canniness of the sleuths as the detective novelist she sometimes impersonates, explores how complicated race is in America." —Randy Fertel, author of The Gorilla Man and the Empress of Steak: A New Orleans Family Memoir