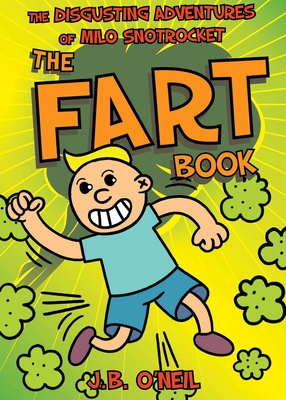 The Fart Book (Paperback)
The Disgusting Adventures of Milo Snotrocket
Sky Pony, 9781510724341, 96pp.
Publication Date: October 17, 2017
Other Editions of This Title:
Paperback (4/18/2012)
* Individual store prices may vary.
Description
Whether you're a "professional" butt-whistler . . . or simply can't resist impressing your friends every now and then with a face-melting fart . . . you'll laugh out loud at this hilarious book with dozens of amazing illustrations.

Learn from the master of bottom-burping disaster himself, Milo Snotrocket, as he demonstrates all twenty-seven different kinds of farts (and the perfect situations to use them to your stinky advantage). The Fart Book, in all of its gaseous glory, illustrates countless fart types and appropriate-use scenarios, including these:

•The Scream
•The Sputter
•The Rotten Egg Cloud
•The Cough Cover-Up
•The Sonic Boom
About the Author
J. B. O'Neil lives out in the sticks of Northern Illinois with his wife Patty, two kids, seven chickens, and a little white pooch named Grommit. He wrote "The Disgusting Adventures of Milo Snotrocket" series together with his eight-year-old son named Joe, who laughs really hard at all of this gross-out humor. He is also the author of Ninja Farts.