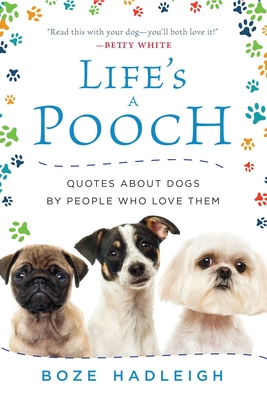 Life's a Pooch (Hardcover)
Quotes about Dogs by People Who Love Them
Skyhorse, 9781510724709, 216pp.
Publication Date: November 21, 2017
* Individual store prices may vary.
Description
Life's a Pooch is, pardon the expression, catnip for dog lovers. Its five riveting chapters comprise hundreds of celebrity quotes and anecdotes about everyone's best friend. By turns funny, touching, surprising, and informative, it embraces every aspect of the human-dog bond and explores our furry companions' sometimes baffling world and celebrates their impact on ours. Those quoted range from animal superheroes Betty White and Doris Day to Leonardos da Vinci and DiCaprio to dog trainers, Lassie costars, singers and actors, presidents, Walt Disney, and Martha Stewart--to name a few!

Did you know that . . .


Comparing canines with people, Marilyn Monroe once said, "A dog will never tell you to shut up"?


Aldous Huxley explained the pooch's popularity: "To his dog, every man is Napoleon," while President Harry Truman advised, "If you want a friend in Washington, get a dog"?


For Renee Zellweger, "Finding exactly the right dog is a lot like falling in love"?


Peanuts creator Charles M. Schulz felt, "Happiness is a warm puppy"?


And singer Adele is happy to be "my dog's best friend"?

Poignant, silly, and heart-warming, Life's a Pooch is a must-have for every dog lover!
About the Author
Boze Hadleigh is the author of twenty-three books, including Holy Cow!—Doggerel, Catnaps, Scapegoats, Foxtrots, and Horse Feathers, about animal words, phrases, and expressions. He speaks five languages, has visited sixty-two countries, holds a master's degree in journalism, and has won on Jeopardy! Hadleigh lives in Beverly Hills and Sydney.
Praise For Life's a Pooch: Quotes about Dogs by People Who Love Them…
"Read this with your dog—you'll both love it!" —Betty White

"It's true, no other animal is as human as a dog, from Chihuahuas to Saint Bernards." —Paris Hilton

"Read this and smile, laugh, learn, and be touched." —Perez Hilton

"This reminds me why dogs are so wonderful—they love women without their makeup." —Cindy Williams (Laverne and Shirley)

"A good dog and a good book—what better combination?"—Jon Hamm (Mad Men)

"Read this with your dog—you'll both love it!" —Betty White

"It's true, no other animal is as human as a dog, from Chihuahuas to Saint Bernards." —Paris Hilton

"Read this and smile, laugh, learn, and be touched." —Perez Hilton

"This reminds me why dogs are so wonderful—they love women without their makeup." —Cindy Williams (Laverne and Shirley)

"A good dog and a good book—what better combination?"—Jon Hamm (Mad Men)
or
Not Currently Available for Direct Purchase