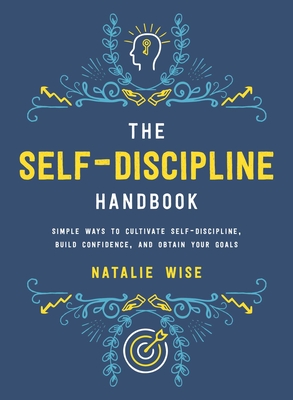 The Self-Discipline Handbook (Hardcover)
Simple Ways to Cultivate Self-Discipline, Build Confidence, and Obtain Your Goals
Skyhorse, 9781510724877, 208pp.
Publication Date: January 2, 2018
* Individual store prices may vary.
Description
Learn why boundaries are not bad, why humility is hard, how to milk your momentum, how passion powers progress, why persistence is a virtue and patience is not optional. Learn how to be your own cheerleader, know your own creative cycle, and say so long to the Sunday night blues. Most importantly, learn how curiosity is the new vulnerability, and why, without it, self-discipline will never last. Do you struggle with finishing projects? Need to lose weight? Can't get to bed at a reasonable hour? We all know we need more self-discipline, yet most of us are a bit foggy on what it actually is. Is it being on time to everything? Or early? Waking up at 5am? Doing everything everyone asks us to, on time, all the time? Or is it something more meaningful, more nourishing? This handbook will teach you how to take joy in cultivating self-discipline. Learn what it is, how to get it, why we need it, how to keep it, and why we want it. It also covers the major stumbling blocks in our way, both internally and externally. If you could use a boost of self-discipline along with a healthy dose of self-confidence, pick up this handbook today. You can't afford not to.
About the Author
Natalie Wise is a Dartmouth-educated poet, author, and modern lifestyle philosopher. Wise has long been a self-discipline junkie, except for the few years she took off for a total meltdown. She graduated from high school at fifteen and started her Ivy League Master's degree on her twenty-first birthday. She is all about pink lipstick, big sunglasses, her trademark #caffeinecrazy when she drinks coffee, and creating happy things for happy people. She is the author of Happy Pretty Messy and Gifts in Jars. She lives in Brattleboro, Vermont.
Praise For The Self-Discipline Handbook: Simple Ways to Cultivate Self-Discipline, Build Confidence, and Obtain Your Goals…
"Natalie Wise hit the mark with The Self-Discipline Handbook! Life is fluid. Self-discipline is fluid. And the definition of success is fluid. By making small choices well, fueling our bodies and minds correctly, and increasing the weight of our choices consistently, we can build a strong foundation for success. This is a must-read for high-achievers and go-getters!" —Laurie A. Watkins, author of Go from Stressed to Strong

"A must-read, easy-to-apply guide for anyone on their hustle to become successful. Natalie Wise makes self-discipline attainable for everyone. The journaling exercises are a personal guide to becoming a disciplined master!" —Sarah Centrella, author of Hustle Believe Receive: An 8-Step Plan to Changing Your Life and Living Your Dream

"The Self-Discipline Handbook by Natalie Wise teaches the importance of being persistent and consistent in building good habits of completing tasks to achieve goals. —Publishers Weekly

"Looking to kickstart your self-discipline? This book is your secret weapon. Filled with clear insight and powerful tools to understand what energizes you, this book will equip you with the inspiration and know-how to awaken the magic that's already alive and well within you."—Jay Delaney, documentary filmmaker, stewardship manager at Ohio StateUniversity, and founder of Create the Map (www.createthemap.com)

"Natalie Wise hit the mark with The Self-Discipline Handbook! Life is fluid. Self-discipline is fluid. And the definition of success is fluid. By making small choices well, fueling our bodies and minds correctly, and increasing the weight of our choices consistently, we can build a strong foundation for success. This is a must-read for high-achievers and go-getters!" —Laurie A. Watkins, author of Go from Stressed to Strong
or
Not Currently Available for Direct Purchase