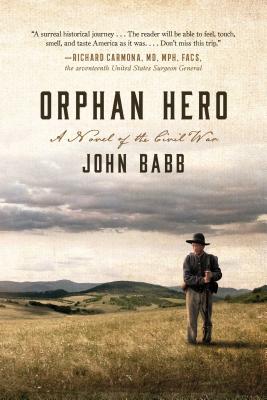 Orphan Hero (Paperback)
A Novel of the Civil War
Skyhorse, 9781510725638, 452pp.
Publication Date: September 5, 2017
Other Editions of This Title:
Hardcover (8/4/2015)
* Individual store prices may vary.
Description
The Epic Tale of a Young Man's Struggle to Survive a Journey Across America

Blamed for the death of his mother, left behind when his father departed for the 1848 California gold rush, and threatened with being locked in a cage with his stepmother's psychotic brother, eight-year-old Benjamin Franklin "B. F." Windes decides to leave his Indiana home and retrace his father's path across the country in the hopes of finding him. Thus begins a decades-long saga of hardships, disease, severe weather, Indian attacks, solitude, and sudden death on his journey across much of what will become the United States.

Arriving in California, B. F. spends the next eleven years in booming gold-rush towns, first as a barber, then as a physician's assistant, before departing for the Caribbean at age nineteen, where he becomes a blockade-runner during the American Civil War. At war's end, he discovers that the men he had been dealing with were nothing more than common murderers and thieves—bushwhackers. At war's end, B. F. travels to the Missouri Ozarks, where he meets the girl of his dreams. But their romance is threatened when he finds himself battling a man from his past in order to safeguard his family and his future.

Orphan Hero, based on the life of the author's great-grandfather in the mid-nineteenth century, is a moving tale of courage and perseverance in the face of incredible hardship.
About the Author
John Babb is a former US assistant surgeon general as well as a retired rear admiral in the US Public Health Service. His background has allowed him to accurately portray some of the primitive medical techniques and remedies as well as curative folk practices of the 1850s. He lives in Tennessee with his wife, Victoria.
Praise For Orphan Hero: A Novel of the Civil War…
"Retired Rear Admiral John Babb, an extraordinary leader himself, takes us on a surreal historical journey by putting us at the side of his great-grandfather as he matures and survives a tumultuous and hazardous America during the mid-19th century. The reader will be able to feel, touch, smell and taste America as it was. Included in his great-grandfather's story is an accurate portrayal of the level of medical care available on the frontier during this time period. Don't miss this trip."—Richard Carmona, MD, MPH, FACS, US surgeon general of the United States

"With twenty-five years' experience as a Civil War reenactor and living historian, I found Orphan Hero to be an accurate portrayal of mid-nineteenth-century life on the American frontier, as well as the impact of 'supply and demand economics' on the successes and failures of the Confederacy. Benjamin Franklin Windes overcomes many challenges as he crosses the North American continent to the California goldfields—living and working on the rough-and-tumble frontier, running Yankee naval blockades during the Civil War, and finally fighting bushwhackers in the immediate postwar period. I found myself laughing and crying my way through this exceptionally well-written book."—Corporal James Minor, Co. B, twenty-sixth NC Troops, reactivated, Army of Northern Virginia

Orphan Hero is a ripping good tale."—Historical Novel Review

"Retired Rear Admiral John Babb, an extraordinary leader himself, takes us on a surreal historical journey by putting us at the side of his great-grandfather as he matures and survives a tumultuous and hazardous America during the mid-19th century. The reader will be able to feel, touch, smell and taste America as it was. Included in his great-grandfather's story is an accurate portrayal of the level of medical care available on the frontier during this time period. Don't miss this trip."—Richard Carmona, MD, MPH, FACS, US surgeon general of the United States

"With twenty-five years' experience as a Civil War reenactor and living historian, I found Orphan Hero to be an accurate portrayal of mid-nineteenth-century life on the American frontier, as well as the impact of 'supply and demand economics' on the successes and failures of the Confederacy. Benjamin Franklin Windes overcomes many challenges as he crosses the North American continent to the California goldfields—living and working on the rough-and-tumble frontier, running Yankee naval blockades during the Civil War, and finally fighting bushwhackers in the immediate postwar period. I found myself laughing and crying my way through this exceptionally well-written book."—Corporal James Minor, Co. B, twenty-sixth NC Troops, reactivated, Army of Northern Virginia

Orphan Hero is a ripping good tale."—Historical Novel Review