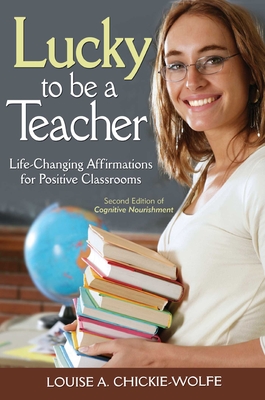 Lucky To Be A Teacher (Paperback)
Life-Changing Affirmations for Positive Classrooms
Skyhorse, 9781510725874, 96pp.
Publication Date: January 9, 2018
* Individual store prices may vary.
Description
Positive affirmations guide the brain to positive thinking. This gem of a workbook inspires educators at all grade levels and points in their careers to strive for excellence every day. Louise A. Chickie-Wolfe expands on core motivating affirmations to help readers establish goals, deepen self-understanding, maintain a positive perspective in their work, and reinforce their commitment to teaching as a profession. Formerly published as Cognitive Nourishment, Lucky to Be a Teacher is an ideal gift for teachers to honor the essential work they do and help build the necessary resilience to stay in the field. Features include:

Thirty-three updated affirmations to encourage teachers in their pursuit of a positive classroom
Guided reflection questions with room for response to accompany each affirmation
Writing prompts to help teachers write their own affirmations
Reignite the passion and drive that drew you to teaching as a career and reap the benefits of a positive outlook, an energized classroom, and joyful students!
About the Author
Louise A. Chickie-Wolfe retired in 2008 from classroom teaching after thirty-five years of experience. She taught general education, gifted children, and students with serious learning and behavioral problems. Her experience covers elementary, middle school, high school, and college levels. She currently serves as an adjunct professor in the Graduate School of Education at Purdue University Calumet, where she has worked for more than thirty years. She earned her doctorate degree at George Peabody College of Vanderbilt University in special education and human development.