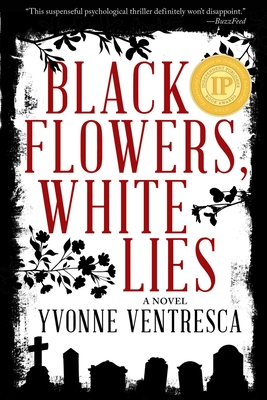 Black Flowers, White Lies (Paperback)
Sky Pony, 9781510725966, 280pp.
Publication Date: March 6, 2018
Other Editions of This Title:
Hardcover (10/4/2016)
* Individual store prices may vary.
Description
A 2017 Independent Publisher Book Award Gold Medal Winner!
Her father died before she was born, but Ella Benton knows they have a supernatural connection. But when newfound evidence suggests that Ella's mother might be lying about how Dad died sixteen years ago, Ella begins to question everything she knows about her father—and herself. If Ella's father lived the last days of his life in a psychiatric hospital, he couldn't have died in a tragic car accident, as her mother always claimed.

When a handprint much like the one Ella left on her father's tombstone mysteriously appears on the bathroom mirror, at first she wonders if Dad is warning her of danger, as he did once before. If it's not a warning, could her new, too-good-to-be-true boyfriend be responsible for the strange occurrences? Or maybe it's the building superintendent, who's mourning a daughter who looked like Ella? As the unexplained events become more frequent and more sinister, Ella finds herself terrified about who—or what—might harm her.

Soon the evidence points to someone else entirely: Ella herself. What if, like her father, she's suffering a mental breakdown? In this acclaimed novel from award-winning author Yvonne Ventresca, Ella desperately needs to find answers—no matter how disturbing the truth might be.
About the Author
Yvonne Ventresca is also the author of Pandemic, winner of a 2015 Crystal Kite Award from the Society of Children's Book Writers and Illustrators. Her other works include the short story "Escape to Orange Blossom," which was selected for the dystopian anthology Prep for Doom, as well as two nonfiction books and numerous articles. She resides with her family in Chatham, New Jersey.
Praise For Black Flowers, White Lies…
Praise for Black Flowers, White Lies

A 2017 Independent Publisher Book Award Gold Medal Winner!

"This suspenseful psychological thriller definitely won't disappoint."
—Buzzfeed, "23 YA Books That, Without A Doubt, You'll Want To Read This Fall"

"Prepare your fingernails, because tension mounts quickly as Ella's reality is chipped away piece by piece by the strange series of events that are tied to her father. Is there a ghost, is she losing her mind, or is someone manipulating her? This one will keep you guessing."
—Justine Magazine

"Ventresca has carefully plotted a variety of twists and turns in this engrossing mystery that doesn't let up until the final pages. It's tense, scary, and, at times, upsetting, everything a supernatural thriller ought to be."
—Jeffrey Harr, ALAN, "ALAN Picks October 2016"

"I raced through Black Flowers, White Lies in a single sitting. What a twisty thrill-ride!"
—April Henry, New York Times-bestselling author of Girl, Stolen

"With a compelling cast of characters and a mystery that'll have you turning pages, Black Flowers, White Lies is a book you don't want to miss!"
—Tiffany Schmidt, author of the Once Upon a Crime Family series

"Black Flowers, White Lies is not your typical YA thriller. It's beautifully written and tightly plotted, telling a story that manages to keep a tight, intimate hold on the reader by digging into some universal fears that aren't often explored in novels. An unnerving reminder that darkness—and even evil—often hides in plain sight."
—Jessica Warman, author of Between

"A captivating story of a girl facing unexplained events that shake her to her core, open up old wounds, and make her wonder what's real. Is it madness or haunting? You'll be turning pages until the end to find out. Highly recommended!"
—Maria E. Andreu, award-winning author of The Secret Side of Empty

"A chilling tale of faith and deception. The supernatural scares kept me hooked, and the ending absolutely blew me away!"
—Joshua David Bellin, author of Survival Colony 9 and Scavenger of Souls

"Black Flowers, White Lies lures you in with charming characters and situations that seem innocuous until they become sinister. A great read from cover to cover."
—Dr. George Simon, bestselling author of In Sheep's Clothing: Understanding and Dealing with Manipulative People

". . . readers find themselves at the mercy of this author's spectacular ideas. [T]he elements of this tale all come together to provide the most amazing psychological thriller written in a very long time. (YA or otherwise.) This fresh tale is so well-developed, so creepy, so intelligent, and so off-the-charts that readers will be absolutely riveted to this plot until the very last spell-binding page. The author grabs everyone with both her characters and her ability to weave a mystery of quiet, yet epic proportions. Quill says: The YA genre can rejoice. A dystopian world is not needed in this psychological suspense that literally deserves time up on the 'big screen.'"
—Feathered Quill Book Reviews

"I loved this book. It's an incredibly fast read and I was so curious about what was going on and who was responsible (and there are, like, a ton of credible suspects). This book was an absolute delight and perfect for this time of year. (And if you're not good with super scary things, you'll be ok with this. It's creepy enough to give you chills while reading it but not so much that you'll have trouble sleeping. Win win!) Recommended."
—Kelly Vision

Praise for Black Flowers, White Lies

A 2017 Independent Publisher Book Award Gold Medal Winner!

"This suspenseful psychological thriller definitely won't disappoint."
—Buzzfeed, "23 YA Books That, Without A Doubt, You'll Want To Read This Fall"

"Prepare your fingernails, because tension mounts quickly as Ella's reality is chipped away piece by piece by the strange series of events that are tied to her father. Is there a ghost, is she losing her mind, or is someone manipulating her? This one will keep you guessing."
—Justine Magazine

"Ventresca has carefully plotted a variety of twists and turns in this engrossing mystery that doesn't let up until the final pages. It's tense, scary, and, at times, upsetting, everything a supernatural thriller ought to be."
—Jeffrey Harr, ALAN, "ALAN Picks October 2016"

"I raced through Black Flowers, White Lies in a single sitting. What a twisty thrill-ride!"
—April Henry, New York Times-bestselling author of Girl, Stolen

"With a compelling cast of characters and a mystery that'll have you turning pages, Black Flowers, White Lies is a book you don't want to miss!"
—Tiffany Schmidt, author of the Once Upon a Crime Family series

"Black Flowers, White Lies is not your typical YA thriller. It's beautifully written and tightly plotted, telling a story that manages to keep a tight, intimate hold on the reader by digging into some universal fears that aren't often explored in novels. An unnerving reminder that darkness—and even evil—often hides in plain sight."
—Jessica Warman, author of Between

"A captivating story of a girl facing unexplained events that shake her to her core, open up old wounds, and make her wonder what's real. Is it madness or haunting? You'll be turning pages until the end to find out. Highly recommended!"
—Maria E. Andreu, award-winning author of The Secret Side of Empty

"A chilling tale of faith and deception. The supernatural scares kept me hooked, and the ending absolutely blew me away!"
—Joshua David Bellin, author of Survival Colony 9 and Scavenger of Souls

"Black Flowers, White Lies lures you in with charming characters and situations that seem innocuous until they become sinister. A great read from cover to cover."
—Dr. George Simon, bestselling author of In Sheep's Clothing: Understanding and Dealing with Manipulative People

". . . readers find themselves at the mercy of this author's spectacular ideas. [T]he elements of this tale all come together to provide the most amazing psychological thriller written in a very long time. (YA or otherwise.) This fresh tale is so well-developed, so creepy, so intelligent, and so off-the-charts that readers will be absolutely riveted to this plot until the very last spell-binding page. The author grabs everyone with both her characters and her ability to weave a mystery of quiet, yet epic proportions. Quill says: The YA genre can rejoice. A dystopian world is not needed in this psychological suspense that literally deserves time up on the 'big screen.'"
—Feathered Quill Book Reviews

"I loved this book. It's an incredibly fast read and I was so curious about what was going on and who was responsible (and there are, like, a ton of credible suspects). This book was an absolute delight and perfect for this time of year. (And if you're not good with super scary things, you'll be ok with this. It's creepy enough to give you chills while reading it but not so much that you'll have trouble sleeping. Win win!) Recommended."
—Kelly Vision
or
Not Currently Available for Direct Purchase