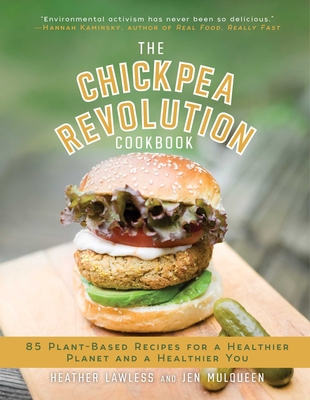 The Chickpea Revolution Cookbook (Hardcover)
85 Plant-Based Recipes for a Healthier Planet and a Healthier You
Skyhorse, 9781510726406, 216pp.
Publication Date: April 3, 2018
* Individual store prices may vary.
Description
Worried about being held responsible for the destruction of the planet? What if you learned that one small thing—eating more plants and plant-based foods, including chickpeas—could lead to a healthier planet and a healthier you? Consuming more plantbased foods is a delicious form of activism that will make you happier, healthier, and, in the long run, confident knowing that you were part of the revolution that led to a more sustainable planet.

The Chickpea Revolution Cookbook has more than eighty-five recipes that can help you incorporate more plant-based foods into your diet. Powerful and delicious chickpeas are good for you and the earth. This book will score you high-fives from Mother Nature and have you eating hearty and nutritious meals. So come join the revolution and let's get cooking!
About the Author
Heather Lawless is a blogger and freelance writer. She's worked for nonprofit organizations around the globe and has advocated for women's equality as a consultant with the United Nations Development Fund for Women. She currently works for the provincial government in the area of income support policy and lives in Scarborough, Canada, with her husband and kids.

Jen Mulqueen is a certified culinary nutrition expert who believes in the power of food to nourish and create a better world. Her background is in documentary production, and she now works with Roots of Empathy to help create more emotionally literate and empathetic children. She resides in Toronto, Canada, with her husband and two children.
Praise For The Chickpea Revolution Cookbook: 85 Plant-Based Recipes for a Healthier Planet and a Healthier You…
"If you thought chickpeas were boring, be prepared to be stunned. As a fellow chickpea enthusiast, I can relate to the love for the mighty bean, however, I am still wowed by the creativity, deliciousness, and beautiful photos in this book! The variety of things you can do with chickpeas will have you wanting more!" —Sophia DeSantis, author of Vegan Burgers and Burritos and founder of the blog Veggies Don't Bite

"I love this book! Looking to the chickpea is an easy, healthy, delicious step all of us can take to reduce our carbon footprint. Mitigating climate change is complex. It takes more than Tesla and wind turbines. It requires a cultural shift in everything we do and how we do it - especially deciding what we eat." —Wesley Normington, executive director TREC Education and climate reality leader

"Heather Lawless and Jen Mulqueen show world-class versatility of the humble, healthy chickpea. From a clever, impossibly crunchy granola to a playful, decadent poutine, I was amazed at just how many ways you can add chickpeas, in all of their forms, to everyday meals. " —Allison Day, author of Whole Bowls and Purely Pumpkin

"A pile of chickpeas is more than just a hill of beans in the hands of Heather Lawless and Jen Mulqueen. Not all superheros wear capes; these revolutionaries don aprons on a mission to save the world, one legume at a time. Their creative recipes will empower the everyday citizen to take a stand against climate change by simply eating more plant-based meals, without sacrificing time, taste, or money. Environmental activism has never been so delicious." —Hannah Kaminsky, author of Real Food, Really Fast and BitterSweetBlog.com

"As the author of the cookbook Aquafaba, I am supremely aware of the importance, benefits, and possibilities of chickpeas. Heather and Jen (and I) want everyone to get on board the Chickpea Revolution and make the future a brighter, happier, more empathetic, and more delicious world for all generations of today and tomorrow." —Zsu Dever, author of Everyday Vegan Eats,Vegan Bowls, and Aquafaba

"Versatile and highly nutritious, the chickpea offers great health benefits. Rising food prices, and the modern day epidemic of obesity, diabetes and heart disease make the chickpea an alluring choice. Furthermore, the many positive environmental effects of eating a plant-based diet offer an additional incentive to move in this direction and live more sustainably." —Dr. Eileen Nicolle, family physician

"Chickpeas pack incredible punch when it comes to fiber, protein and some key vitamins and minerals. Raised on an Indian vegetarian diet, the chickpea was a staple in our pantry. The Chickpea Revolution Cookbook has opened my eyes to just how versatile the chickpea can be in so many other types of cuisine. This cookbook will revolutionize your life through a healthy diet and the joy of cooking!" —Dr. Meeta Patel, emergency physician, assistant professor, faculty of Medicine, University of Toronto

"Forget everything you thought you knew about the chickpea. Authors Lawless and Mulqueen have launched the unassuming garbanzo into legendary legume status. From falafel dogs and sushi to pakoras and crème brule, their beautifully photographed recipes demonstrate just how much we've underestimated the culinary capacity of the chi chi bean. So grab your kitchen utensils and get ready to join the revolution." —Sandra Sellani, coauthor of The 40-Year-Old Vegan

"Pulses are definitely the most affordable, sustainable, and healthy sources of protein and the authors provide plenty of exciting ways to incorporate them into your diet. The Chickpea Revolution Cookbook is a great way to get engaged with plant-based eating and make your diet more planet friendly." —Helen Harwatt, PhD., climate change and food systems specialist at Planet Friendly Food

"Want to save the world?? Eat a chickpea! Not only are they sustainable, vegan, packed with protein, and environmentally friendly, they are immensely versatile. Prepare to have your mind blown by all the different and delicious ways The Chickpea Revolution Cookbook uses this king of the legumes. From breakfast all the way through to dessert, saving the world has never tasted so good." —Rebecca Coleman, author of Aquafabulous!

"This health-focused title showcases the versatility of a popular ingredient and is best for cooks accustomed to ingredients such as coconut oil, nutritional yeast, xantham gum, and spiralized vegetables." —Library Journal

"If you thought chickpeas were boring, be prepared to be stunned. As a fellow chickpea enthusiast, I can relate to the love for the mighty bean, however, I am still wowed by the creativity, deliciousness, and beautiful photos in this book! The variety of things you can do with chickpeas will have you wanting more!" —Sophia DeSantis, author of Vegan Burgers and Burritos and founder of the blog Veggies Don't Bite

"I love this book! Looking to the chickpea is an easy, healthy, delicious step all of us can take to reduce our carbon footprint. Mitigating climate change is complex. It takes more than Tesla and wind turbines. It requires a cultural shift in everything we do and how we do it - especially deciding what we eat." —Wesley Normington, executive director TREC Education and climate reality leader

"Heather Lawless and Jen Mulqueen show world-class versatility of the humble, healthy chickpea. From a clever, impossibly crunchy granola to a playful, decadent poutine, I was amazed at just how many ways you can add chickpeas, in all of their forms, to everyday meals. " —Allison Day, author of Whole Bowls and Purely Pumpkin

"A pile of chickpeas is more than just a hill of beans in the hands of Heather Lawless and Jen Mulqueen. Not all superheros wear capes; these revolutionaries don aprons on a mission to save the world, one legume at a time. Their creative recipes will empower the everyday citizen to take a stand against climate change by simply eating more plant-based meals, without sacrificing time, taste, or money. Environmental activism has never been so delicious." —Hannah Kaminsky, author of Real Food, Really Fast and BitterSweetBlog.com

"As the author of the cookbook Aquafaba, I am supremely aware of the importance, benefits, and possibilities of chickpeas. Heather and Jen (and I) want everyone to get on board the Chickpea Revolution and make the future a brighter, happier, more empathetic, and more delicious world for all generations of today and tomorrow." —Zsu Dever, author of Everyday Vegan Eats,Vegan Bowls, and Aquafaba

"Versatile and highly nutritious, the chickpea offers great health benefits. Rising food prices, and the modern day epidemic of obesity, diabetes and heart disease make the chickpea an alluring choice. Furthermore, the many positive environmental effects of eating a plant-based diet offer an additional incentive to move in this direction and live more sustainably." —Dr. Eileen Nicolle, family physician

"Chickpeas pack incredible punch when it comes to fiber, protein and some key vitamins and minerals. Raised on an Indian vegetarian diet, the chickpea was a staple in our pantry. The Chickpea Revolution Cookbook has opened my eyes to just how versatile the chickpea can be in so many other types of cuisine. This cookbook will revolutionize your life through a healthy diet and the joy of cooking!" —Dr. Meeta Patel, emergency physician, assistant professor, faculty of Medicine, University of Toronto

"Forget everything you thought you knew about the chickpea. Authors Lawless and Mulqueen have launched the unassuming garbanzo into legendary legume status. From falafel dogs and sushi to pakoras and crème brule, their beautifully photographed recipes demonstrate just how much we've underestimated the culinary capacity of the chi chi bean. So grab your kitchen utensils and get ready to join the revolution." —Sandra Sellani, coauthor of The 40-Year-Old Vegan

"Pulses are definitely the most affordable, sustainable, and healthy sources of protein and the authors provide plenty of exciting ways to incorporate them into your diet. The Chickpea Revolution Cookbook is a great way to get engaged with plant-based eating and make your diet more planet friendly." —Helen Harwatt, PhD., climate change and food systems specialist at Planet Friendly Food

"Want to save the world?? Eat a chickpea! Not only are they sustainable, vegan, packed with protein, and environmentally friendly, they are immensely versatile. Prepare to have your mind blown by all the different and delicious ways The Chickpea Revolution Cookbook uses this king of the legumes. From breakfast all the way through to dessert, saving the world has never tasted so good." —Rebecca Coleman, author of Aquafabulous!

"This health-focused title showcases the versatility of a popular ingredient and is best for cooks accustomed to ingredients such as coconut oil, nutritional yeast, xantham gum, and spiralized vegetables." —Library Journal