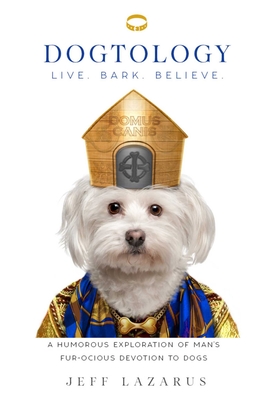 Dogtology (Hardcover)
A Humorous Exploration of Man's Fur-ocious Devotion to Dogs
Skyhorse, 9781510726444, 184pp.
Publication Date: November 7, 2017
* Individual store prices may vary.
Description
Chew on this. As humans, we have a deep need to believe . . . a need to relate to something greater and more ideal than ourselves. Perhaps that's why so many millions believe in Dog. Man's devotion to Dog has come to rival the great -isms and -ologies of the world. This thing has gone way beyond a hobby.

We may not literally worship dogs, but we come pawfully close. This rabid reverence for Rover has a name: Dogtology. Dogtology is for the dog lover who has bailed on a date because they didn't want Twinkles to be left home alone. It is for the human whose dog owns a more festive holiday wardrobe than they do, whose pups dine on free-range bison burgers while they live off ramen, or whose smartphones have more photos of their dog than of the humans in their family. In this sacred dogtrine, the case is made that Dogtology has become a bone-a-fide belief system on par with the world's great philosophies and religions.
About the Author
Jeff Lazarus is a leadership coach, speaker, trainer, adjunct professor, and creative who innovates and builds roads not yet traveled. He has an MBA from Pepperdine University and a BA in interpersonal and organizational communication from California State University, Long Beach. He combined his passion for animals with his teachings on communication and released Listen Like a Dog in 2016. Lazarus is a serious dog lover and advocate. After finally having his Cat Mitzvah, way past age thirteen, he wrote the whimsical book Catakism.
Praise For Dogtology: A Humorous Exploration of Man's Fur-ocious Devotion to Dogs…
"I think the concept of Dogtology is as fresh and unique as Chicken Soup for the Soul was two decades ago." —Jack Canfield, cocreator, Chicken Soup for the Soul series