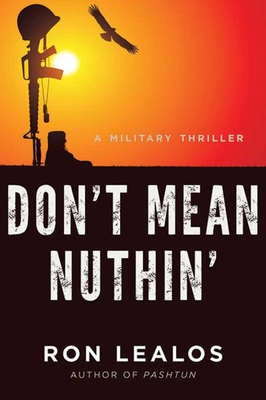 Don't Mean Nuthin' (Paperback)
A Military Thriller
Skyhorse, 9781510726505, 240pp.
Publication Date: February 6, 2018
* Individual store prices may vary.
Description
Frank Morgan, a young college grad raised on Army discipline, started his military career as a Phoenix Program assassin in Vietnam with nothing but faith, confidence, and belief in his country. In 1969, he boards the Freedom Bird and takes a seat next to a grizzled grunt. This is Morgan's first hint of what may be coming his way—and what he, as a soldier, may become.Throughout his tour, Morgan struggles with his belief in his missions, though he pushes on and does his job. With less than a month to go before he heads home, Morgan leads a squad of South Vietnamese special forces in a massacre and mistakenly kills a beautiful innocent woman, Liem, in an old French plantation outside C?n Tho.The death of Liem haunts him and distracts him so that he barely survives an attempt on his own life—which he later learns was ordered by his CIA chief, a swashbuckling cowboy named Comer. This betrayal launches Morgan's metamorphosis into an avenging assassin.Don't Mean Nuthin' reveals a war-torn Vietnam through a Conradian journey by a man who seeks a higher moral ground and then struggles to redeem himself in a sea of carnage and despair.
About the Author
Ron Lealos graduated from Western Washington University and studied fiction under Tom Spanbauer for several years as part of the Dangerous Writing group in Portland, Oregon. In his nonwriting life, he has developed, manufactured, and marketed a rapid home test for the detection of HIV antibodies. He is also the author of Pashtun. He resides in Vancouver, Washington.
Praise For Don't Mean Nuthin': A Military Thriller…
"Powerful . . . a gut-wrenchingly realistic portrayal of how violence, politics and corruption combine to destroy the souls of people and countries. A dark redemption tale, but not one for the faint of heart." — Kirkus

"Ron Lealos's Don't Mean Nuthin' is a visceral descent into war and a heart of darkness therein. But Frank Morgan tries to redeem himself from the horror that surrounds him. And survive!" —Stephen Templin, New York Times and international bestselling author of SEAL Team Six and Trident's First Gleaming

"While reading, I actually felt like I was in Vietnam! It is a brilliant, compelling, yet very realistic military novel that I could not put down. Ron Lealos's engrossing story provides a haunting tale of the South Vietnamese Special Forces, the CIA, the Phoenix Program and an intriguing assassination plot." —Don Mann, CO3, USN, SEAL Team Six (Ret.), New York Times bestselling author of Inside SEAL Team Six

"Lealos gets the hierarchies, the ordnance, and the slang right. Vietnam veterans, retiring in numbers now and with time to read, will mostly like it." —Booklist

"Powerful . . . a gut-wrenchingly realistic portrayal of how violence, politics and corruption combine to destroy the souls of people and countries. A dark redemption tale, but not one for the faint of heart." — Kirkus

"Ron Lealos's Don't Mean Nuthin' is a visceral descent into war and a heart of darkness therein. But Frank Morgan tries to redeem himself from the horror that surrounds him. And survive!" —Stephen Templin, New York Times and international bestselling author of SEAL Team Six and Trident's First Gleaming

"While reading, I actually felt like I was in Vietnam! It is a brilliant, compelling, yet very realistic military novel that I could not put down. Ron Lealos's engrossing story provides a haunting tale of the South Vietnamese Special Forces, the CIA, the Phoenix Program and an intriguing assassination plot." —Don Mann, CO3, USN, SEAL Team Six (Ret.), New York Times bestselling author of Inside SEAL Team Six

"Lealos gets the hierarchies, the ordnance, and the slang right. Vietnam veterans, retiring in numbers now and with time to read, will mostly like it." —Booklist