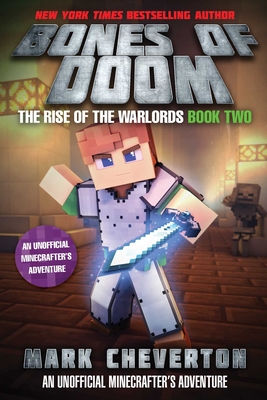 Bones of Doom (Paperback)
The Rise of the Warlords Book Two: An Unofficial Minecrafter's Adventure
Sky Pony, 9781510727380, 288pp.
Publication Date: November 7, 2017
* Individual store prices may vary.
Description
After the fall of the zombies, the balance of power between the monsters of the Far Lands of Minecraft is disrupted. The skeleton warlord Rakar grows stronger, and his skeleton army is leaving a terrible path of destruction in their wake. Watcher and his friends, determined to stop the violence, realize the warlord's power lives in the magical Fossil Bow of Destruction. The mysterious weapon is locked away in the skeletons' subterranean kingdom, but unless the bow is stolen, all of the Far Lands could be destroyed forever!The Rise of the Warlords series is a Minecraft adventure like never before, giving fans the option to play along in Minecraft as they read on custom Far Lands worlds exclusively designed by bestselling author Mark Cheverton.
About the Author
Mark Cheverton is a former high school physics and math teacher and the father of a Minecraft fanatic. He is the creator of the New York Times bestselling Gameknight999 series, action-adventure books set in the world of Minecraft conceived as a way to teach children the dangers of online bullying.