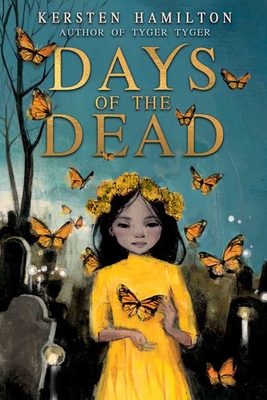 Days of the Dead (Hardcover)
Sky Pony Press, 9781510728585, 256pp.
Publication Date: August 7, 2018
Description
Glorieta Espinosa doesn't hate that Papi married Alice, the nice white woman from Texas, or the fact that he's happy again after years of mourning Mama. But she hates that the urn containing Mama's ashes disappeared into a drawer the day Alice moved in.
She hates that there even is an urn--if only her Tia Diosonita, the town patrona, would overlook the Catholic Church's strict condemnation of suicide, Mama could be buried with her family and her community.
If everything about Glory's life is going to change, then she wants one thing to go her way: this year, she wants to greet Mama's spirit during los Dias de los Muertos--something that's only possible if Mama's ashes can be buried. So with the help of her best friend Mojo and her prankster cousin Riley, Glory sets out to change her Tia's mind. To do so, she'll have to learn to let hate go--and to love the people who stand in her way.
In lovely prose that sparkles with magical undertones, author Kersten Hamilton weaves a tender story about grief, faith, immigration, and the redemptive power of love.
About the Author
Kersten Hamilton was born in a trailer in High Rolls, New Mexico, and has worked as a ranch hand, a lumberjack, a census taker, and an archeological surveyor, and is now a full-time writer. She is the author of several picture books and many novels, including the middle grade Gadgets and Gears series and the critically acclaimed young adult trilogy The Goblin Wars. She splits her time between her home in Albuquerque, New Mexico, and her farm in Kentucky.
Advertisement