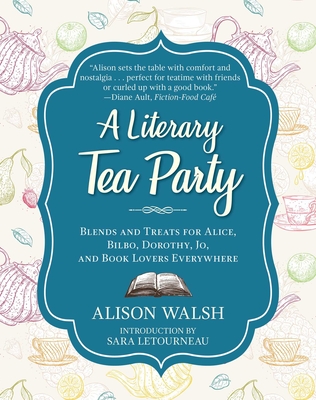 A Literary Tea Party (Hardcover)
Blends and Treats for Alice, Bilbo, Dorothy, Jo, and Book Lovers Everywhere
Skyhorse Publishing, 9781510729100, 160pp.
Publication Date: June 5, 2018
* Individual store prices may vary.
Description
A Literary-Inspired Cookbook for Voracious Readers at Teatime
Tea and books: the perfect pairing. There's nothing quite like sitting down to a good book on a lovely afternoon with a steaming cup of tea beside you, as you fall down the rabbit hole into the imaginative worlds of Alice in Wonderland, The Hobbit, and Sherlock Holmes . . .
Fire up your literary fancies and nibble your way through delicate sweets and savories with A Literary Tea Party, which brings food from classic books to life with a teatime twist. Featuring fifty-five perfectly portioned recipes for an afternoon getaway, including custom homemade tea blends and beverages, you will have everything you need to plan an elaborate tea party. Cook up and enjoy:
Turkish Delight while sipping on the White Witch's Hot Chocolate from
The Chronicles of Narnia
Drink Me Tea with the Queen of Hearts's Painted Rose Cupcakes from
Alice in Wonderland
Eeyore's "Hipy Bthuthday" Cake with Hundred Acre Hot Chocolate from
Winnie the Pooh
Hannah's Sweet Potato Bacon Pastries and Jo's Gingerbread from
Little Women
Tom Sawyer's Whitewashed Jelly Doughnuts from
Tom Sawyer
And more
Accompanied with photographs and book quotes, these recipes, inspired by the great works of literature, will complement any good book for teatime reading and eating.
About the Author
Alison Walsh first began cooking as a way to stretch her post-college paycheck, and her love of cooking grew. In 2014, she combined her love of food and books into Alison's Wonderland Recipes (WonderlandRecipes.com), a food blog dedicated to book-inspired recipes. She guest writes for Real Life at Home and her recipes have been featured on MuggleNet, the number one Harry Potter fan website. She lives in Des Plaines, Illinois. Sara Letourneau is a speculative fiction writer for teens and adults. She is a poet, tea reviewer, music journalist, and columnist at DIY MFA and Writers Helping Writers. She lives in Cape Cod, Massachusetts.