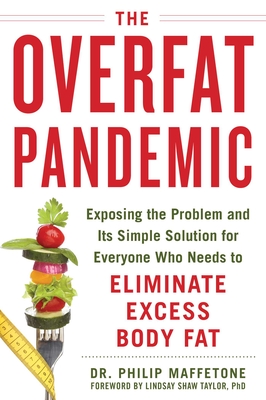 The Overfat Pandemic
Exposing the Problem and Its Simple Solution for Everyone Who Needs to Eliminate Excess Body Fat
Paperback

* Individual store prices may vary.
Description
Research demonstrates that up to 76 percent of the world's population—or 5.5 billion people—are overfat, defined as having sufficient excess body fat to impair health. This includes nearly 90 percent of Americans—one of the highest percentages worldwide. In The Overfat Pandemic, Dr. Philip Maffetone reveals common misconceptions regarding the real meaning of "overfat," factors that helped cause this global pandemic, and ways individuals can remedy the situation with the proper food and exercise. Other major points in the book include: • The distinction between "overweight" and "overfat" • How normal-weight people can be overfat • Why those who exercise can still be overfat, including athletes • Why waist measurement is better than the bathroom scale • How individuals can take charge of their body fat • How the overfat pandemic can be remedied through simple lifestyle changes and without diets As little as 14 percent of the world's population has a normal body-fat percentage, and that number may be shrinking. This book aims to curtail the overfat epidemic by exposing a decades-long problem and offering a research-based, practical solution to help prevent and treat it.
Skyhorse, 9781510729544, 200pp.
Publication Date: September 12, 2017
About the Author
Philip Maffetone has been a private practitioner, health and athlete coach and consultant, published independent researcher, respected pioneer in the field of complementary sports medicine, and internationally recognized educator and author in the fields of nutrition, biofeedback, exercise physiology, and athletic training over the course of his forty- year career. Since 1977, he has used the term " overfat" and has recommended low-carbohydrate and healthy fat eating.

Lindsay Shaw Taylor, PhD, earned her doctorate in Social/Personality Psychology from the University of California, Berkeley. She is now the Senior Writer and Researcher at Primal Blueprint Publishing. An ultra runner and Ironman triathlete, Lindsay directs community outreach for Primal Endurance.
or
Not Currently Available for Direct Purchase