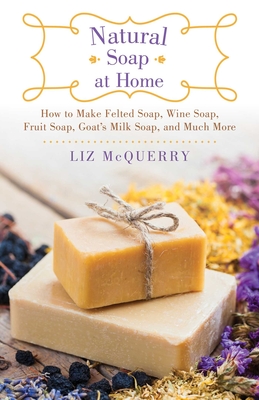 Natural Soap at Home (Paperback)
How to Make Felted Soap, Wine Soap, Fruit Soap, Goat's Milk Soap, and Much More
Skyhorse, 9781510730038, 128pp.
Publication Date: March 20, 2018
* Individual store prices may vary.
Description
The creator of the natural skin care line Moon Magic, Liz McQuerry offers here a step-by-step guide for natural cold-process soap crafting. Mostly utilizing kitchen ingredients to create a variety of innovative soap blends—including felted soap, beer soap, and seasonal soaps—McQuerry will put you in touch with your inner alchemist. From body bars to hair care bars, with wonderful tidbits and advice on herbs and essential oil blends, you and your family will enjoy a clean like never before. Here are instructions for:
Mermaid Kisses Salty Sea Soap
Golden Coconut Milk Soap
Wine and Rose Soap
Felted Soap Stones
Refreshing Lemon Solid Shampoo Bars
Beard Wash Solid Soap Bars
And more!
After you learn to make your own soap, you'll also discover how to scent, color, design, troubleshoot, and even sell your soap. McQuerry's soaps make for attractive and personal bathroom and kitchen décor at home, as well as nifty gifts for just about any occasion.
About the Author
Liz McQuerry is a firm believer in nourishing from nature. She is always trying to find new, fun, and more innovatively beautiful ways to craft and has worked in the allopathic medicine system for years while studying holistic medicine and body therapies in Chinese, ayurvedic, and eclectic medicine.
Through her company, Moon Magic (MoonMagic.co), she has been creating and sharing her knowledge for more than ten years. When she is not testing formulas, she spends her time playing with her three children, jogging in the woods, and painting on her porch surrounded by a cacophony of living greenery. She resides in Grass Valley, California.
Praise For Natural Soap at Home: How to Make Felted Soap, Wine Soap, Fruit Soap, Goat's Milk Soap, and Much More…
"A sensible guide to handcrafting soap at home without breaking the bank on specialized tools and materials." —Anne L. Watson, author of Smart Soapmaking

"This is a solid book on the art and science of how to create handmade soap at home. From the basic science to more advanced techniques and ingredients, this book will teach from the basics to the challenging." —Anne-Marie Faiola, founder Bramble Berry Handcraft Provisions

"A sensible guide to handcrafting soap at home without breaking the bank on specialized tools and materials." —Anne L. Watson, author of Smart Soapmaking

"This is a solid book on the art and science of how to create handmade soap at home. From the basic science to more advanced techniques and ingredients, this book will teach from the basics to the challenging." —Anne-Marie Faiola, founder Bramble Berry Handcraft Provisions