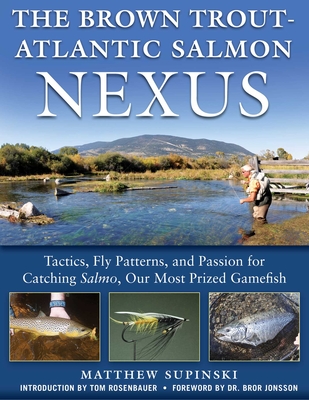 The Brown Trout-Atlantic Salmon Nexus
Tactics, Fly Patterns, and the Passion for Catching Salmon, Our Most Prized Gamefish
Hardcover

* Individual store prices may vary.
Description
Many fishermen will acknowledge that the brown trout (Salmo trutta) and the Atlantic salmon (Salmo salar) are the world?s most intriguing, beautiful and noble fish. Having evolved nearly fifty million years ago in the Eocene epoch, these two species are close genetic cousins and descendants that can be found in oceans, rivers, lakes, and streams across the entire world. The Brown Trout-Atlantic Salmon Nexus is a complete historical, scientific, artistic, culinary, and practical guide to understanding and appreciating these remarkable fish.
Veteran author, guide and adventurist; Matthew Supinski first highlights the evolution and history of the brown trout, from its origins in Europe and the Eastern Hemisphere, to its first North American transplanting in 1883, to its spread across the globe. He then touches in-depth on the scientific and angling brilliance of the brown trout/Atlantic salmon lineage praising the two species? remarkable adaptability and resilience. And finally, chapters of fly fishing tactics, fly patterns, artistic appreciation, and culinary/foraging opportunities where they are found throughout the world, will give readers all the information they need to catch, admire and appreciate this magnificent piscatorial legacy.
With more than 150 stunning photos, The Brown Trout-Atlantic Salmon Salmo Nexus is a must-have for every passionate fisherman, admirer, artist and culinary naturalist connoisseur to enjoy.
Praise For The Brown Trout-Atlantic Salmon Nexus: Tactics, Fly Patterns, and the Passion for Catching Salmon, Our Most Prized Gamefish…
"This book is a must read for anyone who wants to truly understand the fish we love to hunt. Matt's unique writing style keeps a subject that could otherwise be pretty boring, interesting and fun to absorb. From tales of his childhood in Poland to the anecdotal tales of the trout, and the endless amount of intense historical data he has compiled. This book will definitely keep you interested and learning." Kelly Galloup, author of Modern Streamers for Trophy Trout and editor-at-large of Fly Fisherman

"From the challenges of the chess-like game of cracking the code of selective feeding on a limestone stream to the thrill of a pursuing a predatory 'truttasaurus' with giant articulated meat streamers, Nexus is a must read for anyone who enjoys Salmo and their pursuit with a fly."—Henry Ramsay, author of Matching Major Eastern Hatches

"I can't think of anyone better to write about our founding fish. Matt Supinski has studied brown trout and salmon for decades, and can explain their similarities and nuanced differences as fluently as a wine connoisseur can describe red wines from the Old World and the New."—Ross Purnell, editor and publisher at Fly Fisherman

"Reading this book is like falling in love for the first time, all over again. It filled me with joy, excitement, and wonder. I am pretty sure you will like it."—Robert Linsenman, author of Great Lakes Steelhead, Trout Streams of Michigan, and others

"With an impressive breadth of knowledge, Matt Supinski takes his readers on the natal journey of his beloved Salmo, from the dawn of the age to the modern angling sport we now enjoy. Matt draws on his experience from a lifetime of fly fishing, but also shares the wisdom from many of the masters of our sport."—Jason Randall, author of Moving Water: A Fly Fisher's Guide to Currents, among others

"I've read and utilized all of Matt Supinski's books over many years, from the Pere Marquette River Journal to Steelhead Dreams and Selectivity. The collective knowledge, global talent, research, theory, and thought that is combined into Nexus is masterful and addicting. Nexus easily represents the passion of his life's pursuit of steelhead, salmon, and trout, and is Matt's finest work."—Greg Senyo, author of Fusion Fly Tying

"Matt Supinski's knowledge of trout and salmon is immense. Since boyhood, he has explored these species both in streams and rivers and in the pages of angling literature. His newest work displays not only his technical angling side, but his passion for the lore of trout and salmon. Whether you are a home-spun fisherman or a globe-trotting angler, this book will shed light on the fish we love and their impact worldwide."—Glen Blackwood, owner of Great Lakes Fly Fishing Company

"In Brown Trout-Atlantic Salmon-Nexus, author and expert guide Matt Supinski takes fly anglers beyond the sport's latest trends and fads. Calling on more than four decades of experience chasing trout and salmon in the Western Hemisphere and Europe, Supinski imparts his extensive knowledge and angling skills and lays bare his failures to the serious fly angler. Devotees of the quiet sport need a copy for their personal library."—Beau Beasley, director of Fly Fishing the Mid-Atlantic: A No Nonsense Guide to Top Waters
"Being the spring creek sculpin founding father and designer on the hallowed Letort Spring Run, also an Atlantic salmon angler, I realize the importance of the aggressive prey-predator relationship that all Salmos have when targeting their food in an aggressive manner. Matt's Nexus book deals beautifully with the aggressive nature and journey with the role and importance the "big meat streamer game" has evolved to in its modern day! It is a must read for the leviathan brown trout and Atlantic salmon chaser."—Ed Shenk, author of Ed Shenk's Fly Rod Trouting
Skyhorse, 9781510730298, 280pp.
Publication Date: November 20, 2018
About the Author
Matthew Supinski owns and operates Gray Drake and Trout & Eagle lodges (www.graydrake.com) in Newaygo, Michigan. He has published hundreds of articles in leading angling magazines, including Fly Fisherman, Field and Stream, Outdoor Life, Fly Rod & Reel, American Angler, Fly Fish America, and Eastern Fly Fishing. His work has also appeared in Forbes, Men's Journal, Outside, Gourmet, and Food & Wine. Supinski is the author of River Journal: Pere Marquette, Steelhead Dreams and Steelhead Dreams, 10 Year Anniversary Edition, and Orvis Guide to Great Lakes Salmon and Steelhead. He lives in Newago, Michigan.