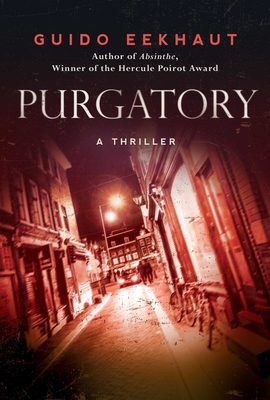 Purgatory
A Thriller
Hardcover

* Individual store prices may vary.
Description
"Eekhaut delivers not only heart-stopping international suspense but also fascinating insight in extremist ways of thinking."— Bob van Laerhoven, winner, Hercule Poirot Prize for Best Suspense Novel of the Year and the USA Best Book Award

The second novel in the acclaimed, best-selling Euro-crime series that began with the Hercule Poirot Award winner, Absinthe.

If the world will end in flames, who is stoking the fire?

Walter Eekhaut (rhymes with "stakeout"), the veteran chief inspector from the Brussels police force who has a problem with authority, remains in Amsterdam, where he was dispatched to assist the Dutch security service. When his boss, Chief Superintendent Alexandra Dewaal, receives a tip from one of her informants, the two find themselves across the border tramping in the Belgian Ardennes on a frigid January day. What they discover is macabre and horrific: seven charred human bodies, attached to tall stakes with chains, in an almost perfect circle. From the look of it, these people were burned alive in some sort of ritual. On the wall of a cabin, Eekhaut and Dewaal make out an enigmatic message written in blood: "This World seems to last Forever. But it is merely the Dream of a Sleeper."

Similar events occur elsewhere in Europe as well as Africa, where Eekhaut's new girlfriend has gone on assignment for an international aid agency operating in Somalia. There have long been stories of an apocalyptic religious cult, The Church of Supreme Purification, along with a more shadowy militant offshoot. Are they connected to these events? Is this some conspiracy to cleanse human society by fire, or is there an even more sinister explanation?
Praise For Purgatory: A Thriller…
"Thrilling . . . Eekhaut expertly ratchets up the tension. . . . Fans of Thomas Harris's Black Sunday will find a lot to like."—Publishers Weekly

"The material here is pitch black, but the writing and the casework is lively, as Eekhaut's detective comes further into focus and the crimes grow more horrifying."—Crime Reads

"I'm a huge fan of procedurals set in foreign countries, and Purgatory is by far one of the most illuminating as to the inner workings of not only their law enforcement but also the culture that it springs from. . . . A very well-rounded look at not only a murder investigation but also the lives of its investigators, contemplating justice and religion in perhaps unexpected but definitely entertaining ways."—Criminal Element

"Eekhaut delivers not only heart-stopping international suspense but also fascinating insight in extremist ways of thinking."— Bob van Laerhoven, winner of the Hercule Poirot Prize for Best Suspense Novel of the Year and the USA Best Book Award

"An absorbing crime thriller with crisp, smart writing and plenty of engaging details. Veteran Chief Inspector Walter Eekhaut might like a nice beer more than procedural cop work, yet in the end he and his realistically stressed colleagues display a refreshing abundance of heart in a grim world constantly threatened by sick minds and lurking evils. In the tradition of classic crime fiction, author Eekhaut skillfully reminds us that, despite frustrated ideals and scarred hearts, true justice is always worth the pursuit. Great stuff."—Steve Anderson, author of the Kaspar Brothers series and other novels

"Eekhaut proves again that he is in full control of the genre.""—Knack magazine

"A thoughtful, tightly constructed thriller."—Het Belang van Limburg

"Well executed in the psychological portrayal of its characters. The meticulously built tension is regularly punctuated by captivating sidelines that give more depth to the story."—NBD Biblion

"A roller coaster of excitement, that leaves you exhausted after reading the last page. A breathtaking story that certainly deserves another sequel." —Boek.be

"I had more than one sleepless night, although I always decided to read no more than a few pages before bedtime. You just want to read on to find out how it all ends. This book deserves its own Thriller of the Month event." —Lekkerlezen.net

"Exciting right up to the penultimate page."—Metro

"Fluid prose."—Readshop.nl

Reviews for Absinthe:

"Eekhaut's gripping thriller, the first in his Amsterdam trilogy, introduces Belgian Chief Inspector Walter Eekhaut. . . . Fascinating."—Publishers Weekly

"Tense, up-to-date Euro-political intrigue, topped off with that rarest of gems: a satisfying finale."—Three-time Emmy-award winning writer Jim Houghton.

"The genre doesn't get any better than this. Absinthe is intoxicating."—John Enright, author of the Jungle Beat Mystery series.

"This book could not be more timely. A riveting read in which the Russians support ultra-right-wing politicians and undermine democracy—much more fun than the newspapers and no less scary. Most enjoyable."—Theodore Riccardi, Professor Emeritus, Columbia University, and the author of The Oriental Casebook of Sherlock Holmes.

"In Absinthe, Guido Eekhaut has masterfully produced a gripping political thriller. Readers could not ask for more: a clever, if slightly tarnished, detective; shadowy assassins; shady Russian financiers; and a controversial missing list of names. And all set in Amsterdam in all of its glory and darkness. It adds up to a mystery tour-de-force that is impossible to put down once you dive in."—Allan Levine, award-winning author of the Sam Klein series.

"In his latest novel . . . Guido Eekhaut writes about today's clear and present danger facing Western democracies emanating from the mixture of dirty politicians and organized crime. This is a work of fiction but all too realistic. Indeed, the new threats to Western democracies no longer comes from ICBMs but rather from crooked bankers and business men in fancy suits. The West may have won the Cold War but the threats are finding their way into the very temples of capitalism, the banks."—Claude Salhani, author of Inauguration Day.

"Eekhaut's award-winning novel, pitting a small force of Belgian and Dutch detectives against the might of Russia's criminal oligarchs and far-right-wing politicians, is a tour de force in Europe's dark literature. Convincing, gripping and utterly realistic, Eekhaut populates his book with characters and situations which will stay with you long after you've finished."—Alan Gold, author of the internationally-successful The Jericho Files and the best-selling The Lost Testament

"The surprise of this spring. It is original and shows considerable stylistic skills."—De Standaard

"Intelligent and exciting."—Crime Zone

"Eekhaut presents us with lifelike characters, not heroes in the hard-boiled tradition, but human detectives plagued by doubt."—Knack magazine

"A Belgian detective worthy to follow in the footsteps of Poirot! Political intrigue, an atmospheric venue, and rollicking action from beginning to end!" —Paul J. Heald, author Death in Eden and Cotton

"A subtle, engaging and very timely thriller."—Michael Marshall Smith, author of The Intruders
Skyhorse, 9781510730687, 336pp.
Publication Date: July 9, 2019
About the Author
Guido Eekhaut has won the Hercule Poirot Award and has been shortlisted twice for the Golden Noose Award for his crime fiction. A former journalist and innovation coordinator for a large international bank, he is a prolific writer and futurist, with more than forty books to his credit. His works have been published in eight languages. He now divides his time mostly between Belgium and Spain.
or
Not Currently Available for Direct Purchase