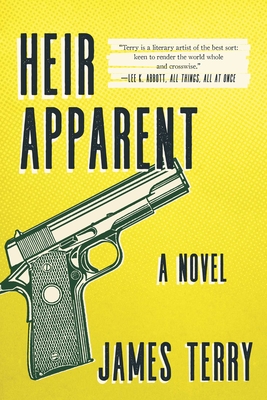 Heir Apparent
A Novel
Hardcover

* Individual store prices may vary.
Description
A compelling and compulsively readable riff on the classic noir detective novel that follows a hard-drinking PI accused of a murder he didn't commit--or did he?

Eddie King wakes up one morning with a splitting headache to find two cops in his room, who begin questioning him about the murder of a man named Walter Morris, a writer of pulp detective novels. Thus begins this novel about a Chandleresque detective accused of a murder he didn't commit. In the process of seeking answers, he is shocked to discover that all of the deceased writer's novels are based on his own cases. Further investigation leads him to the writer's widow, a sensual older woman with whom he begins an impassioned affair. Smartly disguised as a textured and playful homage to the hardboiled American noir, Heir Apparent is also a sophisticated literary game with roots in Greek mythology. Its numerous levels and surprising twists will keep the reader guessing until the very end.

Heir Apparent takes the reader on a strange journey through cavernous libraries, sleazy hotels, and soulless suburbia with a detective who in the end may be nothing more than a figment of the dead writer's imagination. For fans of Jonathan Lethem's Motherless Brooklyn, Heir Apparent is a brilliantly original detective novel from a smart, talented voice.
Praise For Heir Apparent: A Novel…
Terry is a literary artist of the best sort: keen to render the world whole and crosswise. --Lee K. Abbott, All Things, All At Once

Praise for Heir Apparent
"Full of arresting descriptions, small-scale observations, complex meditations on the human condition, delivered in the context of relentlessly increasing desperation. As if Philip Marlowe, tumbledown drunk, trips over a pile of Auster existentialism, busts his nose on some post-modern Pynchon, and stumbles home bleeding across a multi-layered plot like Chinatown tipped on its head. This literary homage examines the cherished tropes of hardboiled detective fiction in a wholly original way. Part page-turning mystery and part psychological thriller, Heir Apparent delivers." —Brandon Graham, author of Good For Nothing

"James Terry has conjured a wonderful metaphysical romp with Heir Apparent, a novel written with precise skill that upends the noir genre in the best possible manner." —Mitch Cullin, author of Tideland 

Praise for James Terry

In the tradition of James Joyce's Dubliners and Sherwood Anderson's Winesburg, Ohio, James Terry's Kingdom of the Sun uses the town of Deming, New Mexico, to reveal how human character is shaped by the place in which we are raised. Kingdom of the Sun offers an honest, authentic, and poignantly revealing vision of how we become who we are."--Steve Heller, Antioch University, author of What We Choose to Remember

"Vivid and fiercely singular, the characters in Kingdom of the Sun conceal guilt, lust, and forbidden love beneath their plain exteriors. United by the stark landscape of southwestern New Mexico, these ten stories are remarkable --yearning, occasionally dark, often surprising, and always satisfying."--Lynn C. Miller, author of The Day After Death

"In spare non-nonsense prose Terry dramatizes the routines of his characters' labors--and the traps and sexual temptations they fall into. His stories bestow a warm sundown luminosity on his re-creation of southern New Mexico's Deming. Kingdom of the Sun is a significant addition the canon of contemporary New Mexico and Southwest literature." --Stanley Crawford, author of Petroleum Man
Skyhorse, 9781510731080, 288pp.
Publication Date: March 12, 2019
About the Author
James Terry grew up in a small New Mexico border town, earned his BA in English from the University of California, Berkeley, and worked in film and television production in the San Francisco Bay Area before moving to Dublin, where he lived for six years, teaching English. He is the author of the novel The Solitary Woman of Shakespeare and Kingdom of the Sun, a collection of short stories. His work has appeared in numerous literary journals and has been nominated for the Pushcart and O. Henry prizes. He currently lives in Liverpool, England with his wife and son.