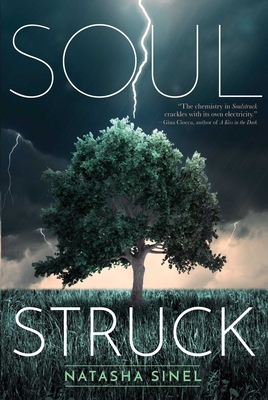 Soulstruck (Hardcover)
Sky Pony, 9781510731189, 304pp.
Publication Date: June 12, 2018
Other Editions of This Title:
Paperback (9/1/2020)
* Individual store prices may vary.
Description
Seventeen-year-old Rachel Ferguson is trying to get struck by lightning. Hopefully it will lead to finding her soul mate, like it did for her mother. And then maybe her mom will be as devoted to her as she is to her lightning strike survivors group.

When Rachel discovers letters written by her mother's soul mate—the man she thought was her father—she begins to question everything she's always believed, including soul mates, fate, and even her mother. No longer sure of its power, she decides to quit chasing lightning.

Rachel feels abandoned and alone—her best friend has ditched her, her boyfriend has dumped her, and a confrontation with her mom only made things worse. At least she still has her friend Jay—in fact, their growing attraction to each other seems to be the only good thing happening.

But when her relationship with Jay starts to unravel, too, the impulse to get struck by lightning resurfaces.

And there's a thunderstorm coming.

Set in Wellfleet, Cape Cod, in the off-season, Soulstruck is about the search for love and the risk of losing it while waiting for destiny to happen.
About the Author
Natasha Sinel is the author of the young adult novel, The Fix, which received the gold medal for YA Fiction in the 2016 Independent Publisher Book Awards (IPPYs). Her short story, "Moving the Body," appears in the adoption-themed anthology Welcome Home. She graduated from Yale University and University of Michigan's Ross School of Business and was a director of business development at Showtime Networks. Born and raised in Washington, D.C., she now lives in Westchester, New York with her husband and three sons.
Praise For Soulstruck…
"This coming-of-age tale set in Cape Cod includes a touch of mystery for an original take on loneliness, broken families, and teenage romance. . . . Themes of social isolation and identity are addressed with delicacy and poise, the dialogue sparkling with lightly dusted humor. . . . An intriguing story and a creative take on the genre." —Kirkus Reviews

"Heartfelt and original. Readers will identify with Rachel as she searches for love and wonders if she needs to be struck by lightning to find it." —Kirsten Lopresti, author of Bright Coin Moon

"Don't wait for a thunderstorm to read this book; the chemistry in SOULSTRUCK crackles with its own electricity." —Gina Ciocca, author of A Kiss in the Dark

"This realistic contemporary novel is a slice of teenage life that depicts struggles with friendship, attraction, parents, and the ability to communicate. The novel's pacing fluctuates at times with occasional bursts of background information that provide enlightenment and has an overall contemplative tone. Characters appear genuine and accurately represented with lifelike imperfections and unique personalities." —School Library Journal

"The teen's strong voice and her heartfelt yearning for romance, the authenticity of the surrounding cast of characters, and the high-school social drama will pull in readers despite the startling, somewhat weird lightning issue and Rachel's obsession with it. There are plenty of enticing elements to curl up with here."—Booklist

"The book's hint of the supernatural is successfully balanced by more down-to-earth insights into the complications of love and fate." —Publishers Weekly

"This coming-of-age tale set in Cape Cod includes a touch of mystery for an original take on loneliness, broken families, and teenage romance. . . . Themes of social isolation and identity are addressed with delicacy and poise, the dialogue sparkling with lightly dusted humor. . . . An intriguing story and a creative take on the genre." —Kirkus Reviews

"Heartfelt and original. Readers will identify with Rachel as she searches for love and wonders if she needs to be struck by lightning to find it." —Kirsten Lopresti, author of Bright Coin Moon

"Don't wait for a thunderstorm to read this book; the chemistry in SOULSTRUCK crackles with its own electricity." —Gina Ciocca, author of A Kiss in the Dark

"This realistic contemporary novel is a slice of teenage life that depicts struggles with friendship, attraction, parents, and the ability to communicate. The novel's pacing fluctuates at times with occasional bursts of background information that provide enlightenment and has an overall contemplative tone. Characters appear genuine and accurately represented with lifelike imperfections and unique personalities." —School Library Journal

"The teen's strong voice and her heartfelt yearning for romance, the authenticity of the surrounding cast of characters, and the high-school social drama will pull in readers despite the startling, somewhat weird lightning issue and Rachel's obsession with it. There are plenty of enticing elements to curl up with here."—Booklist

"The book's hint of the supernatural is successfully balanced by more down-to-earth insights into the complications of love and fate." —Publishers Weekly
or
Not Currently Available for Direct Purchase