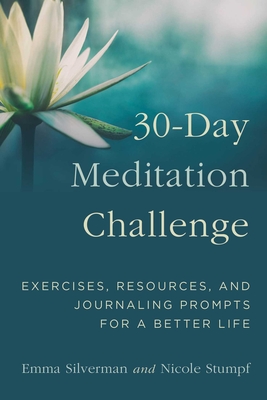 30-Day Meditation Challenge (Hardcover)
Exercises, Resources, and Journaling Prompts for a Better Life
Skyhorse, 9781510731479, 136pp.
Publication Date: May 15, 2018
* Individual store prices may vary.
Description
In Emma Silverman's newest book, she teams up with her yoga teacher, Nicole Stumpf, to make meditation accessible, interesting, and fun. Exploring meditation traditions from around the world, Silverman and Stumpf invite readers to try thirty different meditations and then record their experiences after the practice. This book combines thousand-year-old meditation traditions with the newer phenomenon of prompted journaling.

Studies at Harvard University found that just eight weeks of meditation rebuilds the gray matter of your brain that supports learning and memory. The National Institute of Health has written that meditation increases activity in the parasympathetic nervous system, which is associated with a state of relaxation. A study at the University of Wisconsin in Madison found that "mindfulness meditation" improves both our mood and the strength of our immune system. There are dozens more scientific and peer-reviewed studies that agree: meditation can change your life for the better.

Beginning is often where the greatest challenge lies. This is the book to help you explore what all the meditation buzz is about!
About the Author
Emma Silverman is the author and founder of the blog The Joy of Yoga as well as the author of the instructional books The Joy of Yoga, Yoga Twists and Turns, and Office Zen. After teaching yoga and meditation in the United States for more than ten years, in 2015 she moved to Montreal, Quebec, where she now attempts to teach in English and French.

Nicole Stumpf is a Kripalu-trained yoga teacher, studio owner, and organic farmer. She endlessly fascinated by exploring the physical, emotional, and spiritual healing potentials of plant-based medicine and applied yoga philosophy. She encourages self-study in her students through a lens of compassion and curiosity, while also always remaining a student herself. Nicole resides in Hammondsport and works in Ithaca, New York.
Praise For 30-Day Meditation Challenge: Exercises, Resources, and Journaling Prompts for a Better Life…
"Most of us figure we should meditate a bit. But what does that actually involve? In this elegant new book, Nicole Stump and Emma Silverman draw on everything from ancient Vedic and Buddhist traditions to contemporary pop psychology to some very down-to-earth personal anecdotes—all in an effort to help the reader actually sit down and do it. Highly recommended!" —Andrew Chignell, professor, Princeton University

"The book you've been waiting for: meditation made easy and enjoyable. In this thirty-day challenge, you'll find meditation techniques new and old, complex and simple, and each one holds the potential to change your life. Just do it!" —Devarshi Steven Hartman, founder of the Pranotthan Yoga School

"Most of us figure we should meditate a bit. But what does that actually involve? In this elegant new book, Nicole Stump and Emma Silverman draw on everything from ancient Vedic and Buddhist traditions to contemporary pop psychology to some very down-to-earth personal anecdotes—all in an effort to help the reader actually sit down and do it. Highly recommended!" —Andrew Chignell, professor, Princeton University

"The book you've been waiting for: meditation made easy and enjoyable. In this thirty-day challenge, you'll find meditation techniques new and old, complex and simple, and each one holds the potential to change your life. Just do it!" —Devarshi Steven Hartman, founder of the Pranotthan Yoga School
or
Not Currently Available for Direct Purchase