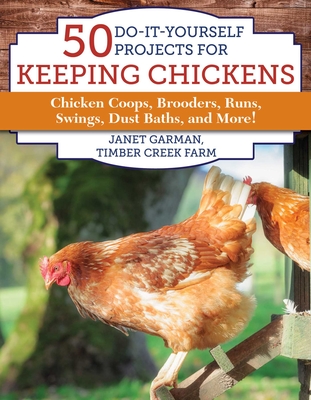 50 Do-It-Yourself Projects for Keeping Chickens
Chicken Coops, Brooders, Runs, Swings, Dust Baths, and More!
Paperback

* Individual store prices may vary.
Other Editions of This Title:
Paperback (3/10/2020)
Description
Owning and raising chickens doesn't have to be an expensive hobby. With imagination, simple tools, and salvaged or bargain materials, you can make everything your flock needs for their health and safety.
Buying a chicken coop can be a major expense. Follow the steps provided in the book to retro fit an existing structure into a chicken palace fit for the fanciest hens. Brooders, grow out pens, and chicken runs can easily be pulled together and give your feathered family a safe place to scratch and peck.
If your chickens want fun activities, create boredom busters with the directions for a chicken swing, dust bath, outdoor roosts, front porches, and resting perches.
Are you planning to raise your own sustainable flock? Building a nesting box area fit for the best broody is included.
You can even set up a maternity ward and brooder pen in the coop.
Dropping boards to dust baths, feeding stations to first aid, read and learn the simplest ways to provide the infrastructure and fun that your chickens need to grow and thrive.
After all the project building, and chores are done, treat your flock to a delicious seasonal recipe with one of the recipes included.
From beak to talon, you're ready to tackle the needs of your flock with 50 DIY Projects you can create on a limited budget. Let's get started!
Praise For 50 Do-It-Yourself Projects for Keeping Chickens: Chicken Coops, Brooders, Runs, Swings, Dust Baths, and More!…
"In 50 Do-It-Yourself Projects for Keeping Chickens, Janet Garman offers a wide variety of projects with clear, step-by-step instructions. With budget-friendly suggestions for upcycling and using materials you already have on hand, you can spoil your birds without breaking the bank. Her homespun style and love of chickens shine through on every page." —Laurie Neverman, Common Sense Home "When we first started keeping chicken on our homestead, it was a confusing time with quite a bit of money spent on items which were not needed to raise a healthy happy flock. Janet's book provides practical and environmentally friendly DIY tips while being budget friendly! This is a great book for new chicken keepers, as well as for seasoned ones who are looking for creative new ideas on how to modify existing builds. The projects and tips listed here are ones that every chicken keeper will need over the course of raising poultry, and for that I am thankful it was written." —Ann Accetta-Scott, A Farm Girl in the Making, www.afarmgirlinthemaking.com "If I could be an animal, I'd choose to be a chicken as long as I could play, roost, nest, and eat on Janet's farm. Janet knows chickens! If you had only one book about raising chickens, this gorgeously photographed and step-by-step illustrated book is for you. Janet makes it easy, inexpensive, and oh, so doable to keep chickens. Personally, I can't wait to get started building Janet's Jungle Gym and Herbal Snack Bar Wall Hanging for my chickens. Janet's book is a must-read for everyone who its thinking about keeping chickens and the experienced chicken farmer. 50 Do-It-Yourself Projects for Keeping Chickens is the best Chicken book I have ever read! Stacy Lyn Harris" —Author, Game and Garden.com "From bringing your chickens home, to keeping them healthy and well, this book isn't just about building projects, it's an exceptional resource for raising your chickens from the moment you bring your chicks home to the time they begin laying! Every DIY chicken keeper should have this beautiful resource on their bookshelf!" —Amy K. Fewell, The Homesteader's Herbal Companion, and Founder of Homesteaders of America "For years Janet has provided a wonderful resource with her blog, giving incredible advice for keeping your chicken flock healthy. We are so excited that she has created such a beautiful book that compiles amazing chicken keeping advice, alongside all of these wonderful DIY projects, that she has made into easy to understand steps that anyone can do! Every chicken keeper will learn a lot from this book, but we love how it addresses the 'tricks of the trade' that it would normally take beginners years of trial and error to figure out on their own." —Brittany May & Penny Ausley, Happy Days Farm, http://www.happy-days-farm.com/

"Practical, comprehensive, profusely illustrated, thoroughly 'user friendly' in organization and presentation, 50 Do-It-Yourself Projects for Keeping Chickens: Chicken Coops, Brooders, Runs, Swings, Dust Baths, and More! is an ideal and unreservedly recommended addition to personal and community library collections." —Midwest Book Review
Skyhorse, 9781510731752, 168pp.
Publication Date: July 17, 2018
About the Author
Janet Garman is a farmer and freelance writer in Maryland. A career in writing began after the nest emptied. All the years of studying farm management and raising many species of livestock along with a full house of children led her to begin sharing her experience in a farm theme blog and website, timbercreekfarmer.com. Janet's background includes a degree in large animal farm management and animal science from University of Maryland and decades of farm and homesteading experience. Her other books are 50 DIY Projects for Your Chickens,Chickens from Scratch, Raising Your Own Chickens from Hatch to Egg Laying and Beyond, Habitat Housing for Rabbits, and Margarita and the Beautiful Gifts. She lives in Crownsville, Maryland.