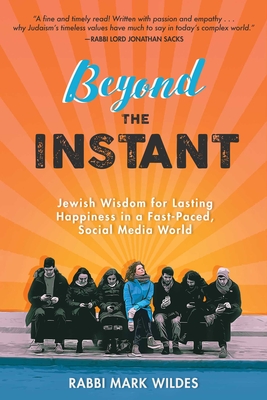 Beyond the Instant (Hardcover)
Jewish Wisdom for Lasting Happiness in a Fast-Paced, Social Media World
Skyhorse, 9781510731851, 160pp.
Publication Date: September 4, 2018
* Individual store prices may vary.
Description
More than ever, young people today are searching for a sense of purpose and direction. Advances in science and technology have given our generation opportunities our grandparents could only dream of, yet our need for meaning and values is more unfulfilled than ever. Growing addiction to instant gratification and attachment to circumstantial highs leave us lacking when it comes to long-term contentment.
Beyond the Instant shows young adults how to enrich their lives through faith. It examines ten different areas of contemporary life, including friendship, family, dating, money, and career, to demonstrate how a return to spirituality can help people find happiness and satisfaction. It addresses many important questions along the way: What is the true role of sex in relationships? What is the significance of failure? How can people really make a difference in the world?
In the book, Rabbi Mark Wildes draws upon Jewish tradition and wisdom to bring a sense of balance, stability, and purpose to the often frenzied and occasionally directionless twenty-first-century way of life. Each chapter examines what the Torah has to say about a particular concern of modern life and then shows how thousands of years of rabbinical teachings can be applied to the contemporary situation. Written in a relatable and engaging style, it shows how faith and religion can provide a practical guide to finding happiness that goes beyond the instant.
About the Author
Rabbi Mark Wildes is the founder and director of the Manhattan Jewish Experience, a social, educational, and spiritual events organization for young adults that draws more than twenty thousand attendees each year to Shabbat dinners, classes, and special events and trips. He earned a law degree from the Cardozo School of Law and a master's degree in international affairs from Columbia University before being ordained from Yeshiva University. He actively blogs for the Times of Israel and Huffington Post, runs a YouTube channel, and has made appearances on HuffPost Live and Fox News. He lives in New York City.
Praise For Beyond the Instant: Jewish Wisdom for Lasting Happiness in a Fast-Paced, Social Media World…
"A fine and timely read! Written with passion and empathy, Rabbi Wildes' important book urges young Jews around the world not just to treasure their heritage and history but to recognize why Judaism's timeless values have much to say in today's complex world."
—Rabbi Lord Jonathan Sacks, former Chief Rabbi of the United Hebrew Congregations of the Commonwealth

"Rabbi Mark Wildes has demonstrated a unique ability to reach out to Jews of all backgrounds and help them find the beauty and relevance of Judaism to their lives. He is a kind of Pied Piper to scores of millennials who gravitate to him on the Upper West Side of Manhattan. This book reflects his wisdom and his kindness. It demonstrates why so many Jews look to him as their 'rabbi.'"
—Deborah E. Lipstadt, Dorot Professor of Modern Jewish and Holocaust Studies, Emory University

"In Beyond the Instant: Jewish Wisdom for Lasting Happiness in a Fast-Paced, Social Media World, Rabbi Mark Wildes has written a highly readable book with practical advice rooted in the wisdom of religion and ancient writings. Using multiple examples from a wide array of sources, both contemporary and biblical, Rabbi Wildes addresses the pressing questions of our times: the path to enduring happiness, what matters in looking for a life-partner and how to achieve mindfulness in a world filled with distraction and the superficial. I strongly recommend this book to anybody who is interested in achieving a fresh perspective grounded in the deep knowledge that Judaism has imparted to the world over the millennia.
—Dr. David Pelcovitz, Straus Chair in Psychology and Education, Azrieli Graduate School, Yeshiva University

"Rabbi Mark Wildes has inspired thousands of young women and men in the last two decades to take their Judaism more seriously through his innovative programs, meaningful services, and exciting classes at the Manhattan Jewish Experience (MJE) that he founded and leads. With this excellent book, he now brings his message to an even wider audience who will benefit from his deep wisdom and insight. Blessed with prodigious learning and vast outreach experience, Rabbi Wildes beautifully demonstrates how the age-old wisdom of the Torah is directly relevant to the core issues of twenty-first century living. Clearly written, thoughtful, learned, and practical, this is a book that will interest, challenge and educate novice and old timer alike."
—Rabbi Jacob J. Schacter, professor of Jewish History and Jewish Thought and Senior Scholar, Center for the Jewish Future, Yeshiva University

"A fine and timely read! Written with passion and empathy, Rabbi Wildes' important book urges young Jews around the world not just to treasure their heritage and history but to recognize why Judaism's timeless values have much to say in today's complex world."
—Rabbi Lord Jonathan Sacks, former Chief Rabbi of the United Hebrew Congregations of the Commonwealth

"Rabbi Mark Wildes has demonstrated a unique ability to reach out to Jews of all backgrounds and help them find the beauty and relevance of Judaism to their lives. He is a kind of Pied Piper to scores of millennials who gravitate to him on the Upper West Side of Manhattan. This book reflects his wisdom and his kindness. It demonstrates why so many Jews look to him as their 'rabbi.'"
—Deborah E. Lipstadt, Dorot Professor of Modern Jewish and Holocaust Studies, Emory University

"In Beyond the Instant: Jewish Wisdom for Lasting Happiness in a Fast-Paced, Social Media World, Rabbi Mark Wildes has written a highly readable book with practical advice rooted in the wisdom of religion and ancient writings. Using multiple examples from a wide array of sources, both contemporary and biblical, Rabbi Wildes addresses the pressing questions of our times: the path to enduring happiness, what matters in looking for a life-partner and how to achieve mindfulness in a world filled with distraction and the superficial. I strongly recommend this book to anybody who is interested in achieving a fresh perspective grounded in the deep knowledge that Judaism has imparted to the world over the millennia.
—Dr. David Pelcovitz, Straus Chair in Psychology and Education, Azrieli Graduate School, Yeshiva University

"Rabbi Mark Wildes has inspired thousands of young women and men in the last two decades to take their Judaism more seriously through his innovative programs, meaningful services, and exciting classes at the Manhattan Jewish Experience (MJE) that he founded and leads. With this excellent book, he now brings his message to an even wider audience who will benefit from his deep wisdom and insight. Blessed with prodigious learning and vast outreach experience, Rabbi Wildes beautifully demonstrates how the age-old wisdom of the Torah is directly relevant to the core issues of twenty-first century living. Clearly written, thoughtful, learned, and practical, this is a book that will interest, challenge and educate novice and old timer alike."
—Rabbi Jacob J. Schacter, professor of Jewish History and Jewish Thought and Senior Scholar, Center for the Jewish Future, Yeshiva University