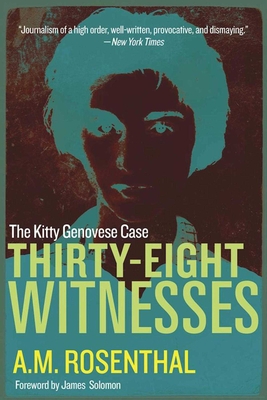 Thirty-Eight Witnesses (Hardcover)
The Kitty Genovese Case
Skyhorse, 9781510734746, 128pp.
Publication Date: September 20, 2016
Other Editions of This Title:
Paperback (9/20/2016)
Paperback (4/1/2008)
MP3 CD (7/11/2017)
* Individual store prices may vary.
Description
On March 13, 1964, Kitty Genovese was brutally beaten and murdered in the street near her apartment, in full view of more than three dozen friends and neighbors—and no one did a thing to stop it. More than thirty-five years after its first publication, Thirty-Eight Witnesses, the true account of what transpired that night in Queens, New York, continues to disturb us. We would like to think that we would step in and do what we could to stop the carnage. But not much has changed in the ensuing years, as crime goes on all around us and we do nothing to help.

Pulitzer Prize–winning New York Times reporter A. M. Rosenthal covered the case for the paper as its city editor, and his chronicle of the events became this book. Part memoir, part investigative journalism, part sociological study, a disturbing story of urban apathy, Thirty-Eight Witnesses puts readers on the gritty sidewalk of the murder scene and speaks of the need for change. In the ensuing years, the case has become famous, and today in criminology classes, students learn about witnesses and the Genovese Effect. A new foreword discusses the historical legacy of the case and how little has changed in fifty-plus years.
About the Author
A.M. Rosenthal (1922-2006) was the editor of "The New York Times" from 1969 through 1986, during which time he gained fame for the paper s coverage of the war in Vietnam, Watergate, the Iran-Contra scandal, and most notably for his decision to publish the Pentagon Papers."
Praise For Thirty-Eight Witnesses: The Kitty Genovese Case…
"This is a most important book by perhaps the most important newspaper editor of the last half-century." - Gay Talese

"A memorable book that needs to be available to anyone who struggles to live an honorable life within one or another community or neighborhood." - Robert Coles, Pulitzer Prize winner, author of The Call of Service: A Witness to Idealism; Professor of Social Ethics, Harvard University

"Abe Rosenthal had fresh eyes for what was happening in America. He told a stunning, tragic story and called each one of us to account for averting our eyes - and hearts - and voices." - Mike Wallace

"Now the classic book on the subject is out…stunning new Introduction." - Liz Smith

"Years after its first printing, Thirty-Eight Witnesses remains a starkly terrifying morality play." - Publishers Weekly

"It resembles a time capsule in some respects...several of the haunting questions Rosenthal raised, generalized to any such situation, remains unanswerable, and link as firmly to the present as they did to their own time." - Art Winslow, Chicago Tribune

"A look at our collective guilt for Genovese's murder, the way we are all complicit when the rules of society start breaking down....It's a vivid argument, and 44 years later, it has more to tell us than some moralistic tale of apathy." - David Ulin, Los Angeles Times

"This is a most important book by perhaps the most important newspaper editor of the last half-century." - Gay Talese

"A memorable book that needs to be available to anyone who struggles to live an honorable life within one or another community or neighborhood." - Robert Coles, Pulitzer Prize winner, author of The Call of Service: A Witness to Idealism; Professor of Social Ethics, Harvard University

"Abe Rosenthal had fresh eyes for what was happening in America. He told a stunning, tragic story and called each one of us to account for averting our eyes - and hearts - and voices." - Mike Wallace

"Now the classic book on the subject is out…stunning new Introduction." - Liz Smith

"Years after its first printing, Thirty-Eight Witnesses remains a starkly terrifying morality play." - Publishers Weekly

"It resembles a time capsule in some respects...several of the haunting questions Rosenthal raised, generalized to any such situation, remains unanswerable, and link as firmly to the present as they did to their own time." - Art Winslow, Chicago Tribune

"A look at our collective guilt for Genovese's murder, the way we are all complicit when the rules of society start breaking down....It's a vivid argument, and 44 years later, it has more to tell us than some moralistic tale of apathy." - David Ulin, Los Angeles Times