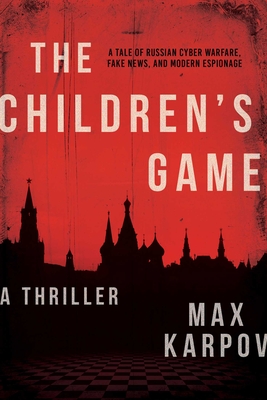 The Children's Game
A Thriller
Hardcover

* Individual store prices may vary.
Other Editions of This Title:
Digital Audiobook (3/12/2018)
Paperback (3/3/2020)
Compact Disc (3/13/2018)
MP3 CD (3/13/2018)
Description
A frighteningly plausible, fast-paced thriller about a Russian cyberattack on America, involving fake news and anonymous hackers.

The CIA has learned that the Kremlin is about to launch a sophisticated propaganda operation aimed at discrediting and disrupting the United States and ultimately restoring Russia to great nation status. Intercepted intelligence suggests that the operation will hinge on a single, breaking news event in Eastern Europe, supported by a sustained campaign of disinformation and cyberattacks. Code-named the "Children's Game"--a chess stratagem that leads to checkmate in four moves--it was probably conceived by a Russian billionaire and former FSB officer named Andrei Turov. For years Turov has been developing the infrastructure for a new kind of warfare that exploits weaknesses in western democracies and manipulates public opinion. His organization offers the Kremlin plausible deniability.

But the United States has its own secret weapon: Christopher Niles, a former CIA intelligence officer, who understands Turov's ambitions and capabilities. It falls to him and his small team--composed of his journalist half-brother Jon, a special forces operative he would trust with his life, and Anna Carpenter, a resourceful US senator with deep roots in the intelligence community--to unravel Turov's plot and restore truth to a world spiraling into chaos.

The Children's Game is a frighteningly realistic, timely thriller that delves into the secret corners of Vladimir Putin's Russia, exploring the shifting world order and the murky realm of US-Russia relations.
Praise For The Children's Game: A Thriller…
"Max Karpov has produced a cleverly conceived thriller that tracks reality. He captures perfectly the mentality of Vladimir Putin's Russia—its deep sense of insecurity that followed the collapse of the Soviet Union and the malign behavior that flows from it. And, on top of it, the book is near impossible to put down. A must read."—Michael Morell, Former Acting Director and Deputy Director, CIA
 
"The Children's Game is a well-written, thought-provoking thriller that is extremely timely in light of the allegations of Russian meddling in the 2016 Presidential election."—Phillip Margolin, New York Times bestselling author of The Third Victim
 
"The Children's Game is uncanny in its timeliness and brilliant in its portrayal of disinformation as the most dangerous weapon of the new Cold War. Max Karpov has written a masterful thriller that is genuinely alarming in its plausibility. A must-read for 2018."—Joseph Finder, New York Times bestselling author of Paranoia and The Switch
 
"Max Karpov's The Children's Game is just about the timeliest novel I've read this year. But this is no mere ripped-from-the-headlines knockoff. This is a fast-paced, vivid, surprising thriller, featuring a great new hero for our troubled times, former CIA agent Christopher Niles. Don't miss this one. I can't wait to read more."—David Bell, author of Bring Her Home
 
"The Children's Game is a cerebral, ground-breaking, all-too-plausible thriller made all the more prescient by the current state of U.S.-Russian relations. Max Karpov peers into his crystal ball in crafting a tale that's so cutting edge, flipping the pages may result in bloodied fingertips. Karpov proves himself every bit the equal of Daniel Silva in crafting the best book of its kind since Nelson DeMille's classic The Charm School. Searingly sumptuous storytelling sure to please fans of Brad Thor, Brad Taylor and the late, great Vince Flynn."—Jon Land, USA Today bestselling author of Strong to the Bone
 
"Compelling, authoritative, and extraordinarily timely, The Children's Game, is a cleverly plotted and disturbingly plausible journey into the dangerous realm of cyberwarfare. Max Karpov is a Kremlin-watcher whose extensive knowledge shines on every page. He's a fresh voice in the genre, and his insightful novel takes the underworld of espionage in unexpected and startling new directions."—Carla Norton, New York Times bestselling author of Perfect Victim 
 
"A tense tale of international intrigue, The Children's Game is absorbing, thrilling, and frighteningly relevant."—Laura McHugh, author of the International Thriller Writers Award–winning The Weight of Blood
 
"Gripping and powerful . . . a brilliant story written for our generation. The Children's Game is a must read for any serious spy fan."—Michael Brady, author of Into The Shadows Spy series
 
"A razor-sharp, bow-string-taut, brilliantly plotted example of the thriller-writer's art. For me the prose is up there with le Carre and Forsyth."—E.M. Davey, former BBC investigative journalist, author of Foretold by Thunder and The Napoleon Complex
 
"Timely, plausible, and captivating, The Children's Game is as prophetic as it is thrilling."—Alan Jacobson, USA Today bestselling author of Dark Side of the Moon
 
"A tight, gripping tale of the men and women who face death in the hidden conflicts of superpower politics. Startlingly believable."—Ben Bova, six-time Hugo Award-winning author of Mars and the Grand Tour series
 
"A new master thriller writer has emerged, and I am looking forward to reading many more of Max Karpov's novels."—Christopher Hepworth, author of The Sleepwalker Legacy and the Last Oracle
 
"If you believe the Cold War ended with the fall of the Berlin Wall, think again! Max Karpov's explosive novel shows how Russia's sophisticated troll factories and bot armies could topple Western democracies as effectively as their T72 battle tanks and nuclear warheads. Karpov's knowledge of the American intelligence community and Russian politics puts him on a par with John le Carré and Frederick Forsyth at their very best. But it is Karpov's analysis of the shocking power of a targeted post-truth and fake news attack that gives the book a contemporary and chilling atmosphere. A new master thriller writer has emerged, and I am looking forward to reading many more of Max Karpov's novels."—Christopher Hepworth, author of The Sleepwalker Legacy and The Last Oracle"Espionage, thrills, chills and, perhaps, a little too close to home, this is one book that you should not miss. Writer Max Karpov's ultimate talent stems from being able to explain all the intricacies of cyberwarfare while making sure to always keep the pace fast and the action nonstop."—Suspense
 
"A well-written, fast-paced, and timely thriller . . . What is especially relevant and chillingly plausible is the whole concept of using a cyberattack to spread misinformation and fake news. Hello . . . "—She Treads Softly
 
"The book may be a wake-up call, but first and foremost it is brilliant plot showcasing a major literary talent."—stacyalesi.com
 
"I was hooked from the moment I started reading."—Reading on a Budget
Arcade, 9781510734814, 384pp.
Publication Date: March 13, 2018
About the Author
Max Karpov is a Washington-based novelist and investigative journalist. A longtime Russia-watcher, Max spent several years researching and writing The Children's Game, a geo-political thriller novel about current-day U.S.-Russia relations. He has written features for The Washington Post, The Miami Herald and elsewhere. He lives in Naples, Florida.
or
Not Currently Available for Direct Purchase