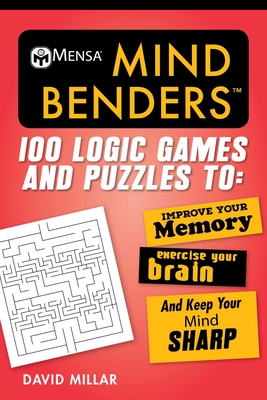 Mensa® Mind Benders
100 Logic Games and Puzzles to Improve Your Memory, Exercise Your Brain, and Keep Your Mind Sharp (Mensa's Brilliant Brain Workouts)
Paperback

* Individual store prices may vary.
Description
Are you as smart as you think you are? Find out with these challenging, entertaining games and puzzles!
From puzzle master David Millar and American Mensa comes puzzles, riddles, and logic games to fine-tune your skills, while simultaneously helping your mental health by improving concentration, creativity, memory, reasoning, and problem-solving skills—because taking care of your brain is just as important as the rest of your body!
Mensa's Super-Strength Mind Games
is great for kids and adults alike. Try a puzzle before bed to cool down and stretch your mind muscles, or with your morning coffee to wake up your brain with an early-morning workout. The challenges within are sure to keep you as sharp and flexible as possible!
Puzzles include:  
Word searches
Blank-filling puzzles
Mazes
Sudoku
Riddles/short text games
Tetra drop
Story logic
And more!
Skyhorse, 9781510735422, 112pp.
Publication Date: May 8, 2018
About the Author
David Millar is a puzzle author and graphic artist who combines both disciplines to craft puzzle and gaming materials. A lifelong stationery nerd, he is never without many trusty notebooks full of graph paper, whose contents span puzzle grids, dungeon maps, user interface designs, sticker ideas, and beyond. In addition to a career in web application development and software engineering, David has more than a decade of puzzle blogging under his belt, and his puzzles have previously featured in UK and World Puzzle Championships. He resides in Fort Worth, Texas.