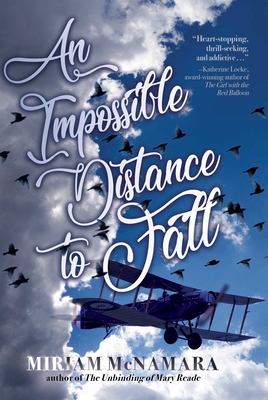 An Impossible Distance to Fall
Hardcover

* Individual store prices may vary.
Description
"I imagine wing-walking and reading An Impossible Distance to Fall feel a great deal the same: heart-stopping, thrill-seeking and addictive. A book to be re-read over, and over, and over again." —Katherine Locke, award-winning author of The Girl with the Red Balloon

Here is a story about falling—falling from grace, falling in love—as well as soaring to heights you wouldn't know were possible if you never stepped out into thin air.

It's 1930, and Birdie William's life has crashed along with the stock market. Her father's bank has failed, and worse, he's disappeared along with his Jenny biplane.

When Birdie sees a leaflet for a barnstorming circus with a picture of Dad's plane on it, she goes to Coney Island in search of answers.

The barnstorming circus has lady pilots, daredevil stuntmen, fire-spinners, and wing walkers, and Birdie is instantly enchanted—especially with a girl pilot named June. Birdie doesn't find her father, but after stumbling across clues that suggest he's gone to Chicago, she figures she'll hitch a ride with the traveling circus doing what she does best: putting on a convincing act and insisting on being star of the show.

But the overconfidence that made her belle of the ball during her enchanted youth turns out to be far too reckless without the safety net of her charmed childhood, and a couple of impulsive missteps sends her and her newfound community spinning into freefall.
Praise For An Impossible Distance to Fall…
"I imagine wing-walking and reading An Impossible Distance to Fall feel a great deal the same: heart-stopping, thrill-seeking and addictive. I couldn't stop turning the pages, plummeting into Birdie's story of her search for her father, her growing awareness and attraction to June, and her ever-twisting relationships with her newfound family. Birdie's a quintessentially lovable heroine: flawed, impulsive, kind-hearted, and optimistic even when all the odds are against her. A book to be re-read over, and over, and over again." —Katherine Locke, award-winning author of The Girl with the Red Balloon

Praise for The Unbinding of Mary Reade

"The Unbinding of Mary Reade is a rollicking, breathtaking adventure full of heart, passion, wit, and intelligence. I was turning pages fast as a wind fills a sail, marveling at the talent that is Miriam McNamara." —An Na, Printz Award Winner and National Book Award Finalist for A Step from Heaven

"The sexy, high-seas swashbuckler we've been waiting for." —Rita Williams-Garcia, winner of the 2011 Newbery Honor Award, Coretta Scott King Award, Scott O'Dell Award, and the PEN/Norma Klein Award, and the author of One Crazy Summer

"A captivating account of gender, feminism, agency, and all manner of desire—most importantly, the desire to be free. Badass, through and through." —M-E Girard, Lambda Literary Award Winner and William C. Morris Award Finalist for Girl Mans Up

"Issues of gender identity and who and how to love make The Unbinding of Mary Reade resonate as strongly in the present as in the past. Action-packed, this romantic tale is bound to entice teen and adult readers alike." —Cordelia Jensen, author of Skyscraping and The Way the Light Bends

"The Unbinding of Mary Reade is a stunning debut—intense and unforgettable, thrilling to the very last page!" —Melanie Crowder, author of Audacity and An Uninterrupted View of the Sky

"I dare you not to yell huzzah! at least ten times while reading The Unbinding of Mary Reade, a swashbuckling girl-power adventure about owning who you are and loving who you want. Mary is an unforgettable heroine who is tough yet tender, a survivor who's got swagger and courage. I'd join her pirate crew any day!" —Heather Demetrios, author of Bad Romance and Exquisite Captive

"This is the pirate novel we've been waiting for. Epic and confident, with a plot that sizzles and then ignites like a powder keg. Longing and love tangle in nuanced, powerful combinations as Mary takes to the high seas and meets her match in Anne Bonny. An unstoppable romance, an unforgettable adventure." —Amy Rose Capetta, author of Echo after Echo

"Fantastic, unique, and inclusively diverse young adult fiction . . . You had me at 'queer pirates.' *grabby hands*" —Tor.com

"Canonically queer pirate girls? Yes, please." —Barnes & Noble Teen Blog

"In her debut novel, McNamara creates a compelling backstory for legendary female pirate Anne Bonney, as well as folding accurate historical details into a plot about how and why youth took to sea in 18th-century England, the physical and social hazards of social class clashes on land and at sea, and the gender politics that, then too, made the simple fact of being female constantly dangerous. . . . Delightful reading for anyone who enjoys pirate stories or is seeking LGBTQ+ fiction that is positive as well as fairly realistic. VERDICT: A great choice for historical fiction collections." —School Library Journal

"The connections to issues today will inspire readers to think beyond the adventure and root for a happy ending. An auspicious first novel." —Booklist
Sky Pony, 9781510735453, 264pp.
Publication Date: July 2, 2019
About the Author
Miriam McNamara earned a Master of Fine Arts in Writing for Children and Young Adults from the Vermont College of Fine Arts, where she won the Norma Fox Mazer award for a historical young adult manuscript work-in-progress. The Unbinding of Mary Reade is her first novel. She lives in Asheville, North Carolina.
or
Not Currently Available for Direct Purchase