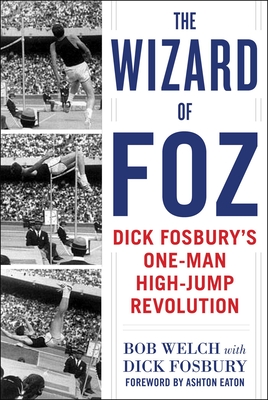 The Wizard of Foz (Hardcover)
Dick Fosburyas One-Man High-Jump Revolution
Skyhorse Publishing, 9781510736191, 288pp.
Publication Date: September 4, 2018
* Individual store prices may vary.
Description
In 1968, a US Olympic men's track and field team--America's best ever--stirred the world in unprecedented ways, among them the victory stand black rights protest by Tommy Smith and John Carlos at the Games in Mexico City. But in competition, no single athlete captured the '60s more perfectly than Dick Fosbury, a failed Oregon prep high jumper who--in the wake of his little brother being killed by a drunk driver while the two were riding bikes and the subsequent divorce of his parents--invented a high jump style as a high school sophomore that ultimately won him an Olympic gold medal and revolutionized the event. No jumpers today use any other style than his. The Wizard of Foz is a story of innovation and imagination that blossoms 7,350 feet up in the High Sierra, where boulders and 100-foot trees festoon the interior of the Olympic Trials track. It is a story of loss, survival, and triumph, entwined in a person--Fosbury--and a time--the '60s--clearly made for each other. And it is a story of a young man who refused to listen to those who laughed at him, those who doubted him, and those who tried to make him into someone he wasn't. "My experience working with Skyhorse is always a positive collaboration. The editors are first-rate professionals, and my books receive top-shelf treatment. I truly appreciate our working relationship and hope it continues for years to come."
-David Fischer, author.
About the Author
Bob Welch is an author, speaker, and award-winning columnist, who has served as an adjunct professor of journalism at the University of Oregon in Eugene. He has written more than twenty books and thousands of columns for the Register-Guard, Oregon's second-largest newspaper. Welch lives in Eugene, Oregon. Dick Fosbury is known worldwide as the inventor of the Fosbury Flop high-jump style, with which he won the Olympic medal in 1968. After competing, he followed the passion of his youth--civil engineering--at Oregon State University and supplemented that with an array of the numerous opportunities that came his way, many because of his "Fosbury Flop" fame. The USA Olympic Hall of Famer travels the world, inspiring young athletes and corporate partners alike while promoting track and field. Fosbury resides in Bellevue, Idaho. Ashton Eaton is the 2012 and 2016 decathlon Olympic gold medalist and current world record holder.