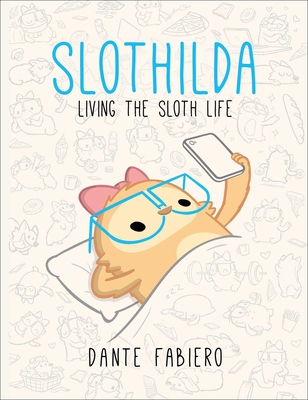 Slothilda (Hardcover)
Living the Sloth Life
Skyhorse, 9781510736573, 128pp.
Publication Date: October 2, 2018
* Individual store prices may vary.
Description
A charming collection of comics about an ambitious little sloth who'd rather just take it easy.

Are you a fan of carbs, the internet, and naps? Slothilda is your spirit animal!

From former Simpsons animator Dante Fabiero comes this all-too-real comic series about an adorable little sloth who's driven by her desire for self-improvement. Slothilda explores an inner conflict we can all relate to?the desire to succeed and grow, while paradoxically dealing with the ever present temptation to sloth.

With themes related to work, fitness, food, shopping, and pets, this book shows that you're not the only sloth at heart.
About the Author
Dante Fabiero is a Los Angeles native who has made a career working on some of TV's most popular animated shows, seen on Netflix, TBS, and Fox. Fabiero launched Slothilda in 2014 and has garnered close to half a billion views on the website Giphy. You can see Slothilda come to life and subscribe to receive future comics for free at slothilda.com.
Praise For Slothilda: Living the Sloth Life…
"Now I want to be a sloth." —Stephan Pastis, creator of Pearls Before Swine

"OMG, THIS IS SO CUTE, I LOVE IT." —Liz Climo, creator of The Little World of Liz, and author of Lobster is the Best Medicine

"The first book from a young author shouldn't be this well done, and yet here it is. Just page after page of the sweetest sloth you've ever seen and her pet corgi, Peanut. Honestly, I have no idea how Dante was able to make the daily adventures (and struggles) of Slothilda so adorable, cute, and funny, but I'm sure glad he did." —Brian Gordon, creator of Fowl Language comics

"An adorable animated sloth that perfectly sums up your lazy life." —Pleated Jeans

"Slothilda combines the cuteness of Hello Kitty with the laziness of Homer Simpson." —Benjamin Kaltenecker, producer at Dreamworks Animation

"Now I want to be a sloth." —Stephan Pastis, creator of Pearls Before Swine

"OMG, THIS IS SO CUTE, I LOVE IT." —Liz Climo, creator of The Little World of Liz, and author of Lobster is the Best Medicine

"The first book from a young author shouldn't be this well done, and yet here it is. Just page after page of the sweetest sloth you've ever seen and her pet corgi, Peanut. Honestly, I have no idea how Dante was able to make the daily adventures (and struggles) of Slothilda so adorable, cute, and funny, but I'm sure glad he did." —Brian Gordon, creator of Fowl Language comics

"An adorable animated sloth that perfectly sums up your lazy life." —Pleated Jeans

"Slothilda combines the cuteness of Hello Kitty with the laziness of Homer Simpson." —Benjamin Kaltenecker, producer at Dreamworks Animation