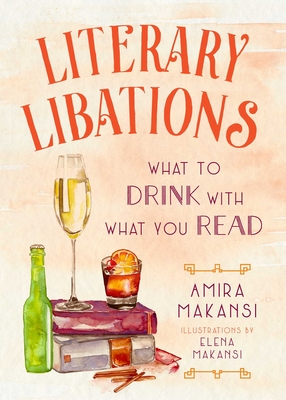 Literary Libations (Hardcover)
What to Drink with What You Read
Skyhorse, 9781510736580, 224pp.
Publication Date: September 4, 2018
* Individual store prices may vary.
Description
Recommended as a holiday gift for wine lovers by The Mail Tribune!
"This delightful hard-cover volume is light as the bubbles in Crémant de Bourgogne, bright with a wordsmith's insights and generously flavored with humor. One-page descriptions of what wine, brew, or cocktail goes best with a renowned book (they range from Heart of Darkness/Petite Syrah to A Confederacy of Dunces/Budweiser) are as un-put-downable as potato chips."

Want to know what to drink with all your favorite books?

A bubbly, boozy French 75 with The Great Gatsby. A luscious Chocolatini with Bridget Jones's Diary. Old vine California Zinfandel with The Grapes of Wrath. Lager (by the pitcher, from your local dive) with Fight Club. Refreshing citrus shandy with Their Eyes Were Watching God. And don't you dare open Dracula without a Bloody Mary near at hand! 
 
Now book lovers everywhere can raise the perfect toast to Shakespeare, Austen, Kerouac, Woolf, and more. With drink pairing recommendations for nearly 200 classic and contemporary works of fiction, including non-alcoholic pairings for kids and young adult books, Literary Libations is a necessary addition to bookshelves and bar tops everywhere.

"Insightful, beautifully written, and [full of] dazzling watercolor illustrations." --Taylor Zajonc, author of The Maw
About the Author
Amira K. Makansi is a wine industry professional who has worked in many if not all aspects of the wine industry. After graduating from the University of Chicago with a degree in history, she quickly abandoned her quest to become a lawyer in favor of pursuing a career in all things beverage-related. She has worked for eight wineries, two distribution companies, and three restaurants, spanning from Chicago's prestigious dining scene to an Alsatian winery whose first vintage predates the French revolution. Amira has also written and published a science fiction trilogy with her mother and sister, the first book of which has been optioned for a Hollywood production.
Praise For Literary Libations: What to Drink with What You Read…
"Serves up cocktails with a humorous twist . . . equal parts cookbook, history lessons, and book club fare." —Medford Mail-Tribune

"A thoughtful picaresque . . . Makansi's approach is fearless, fun, and, at times, autobiographical . . . it makes a delicious and intoxicating holiday gift for those who have everything, those who love to read, professional and amateur mixologists both, and those who just enjoy relaxing with an imaginative drink." —Oregon Wine Press

"Literary Libations [provides] interactive ways to experience reading and drinking." —Touring and Tasting magazine

"Makansi uses the history and themes of famous books to provide humorous but informative drink pairing recommendations . . . The pairings in Literary Libations are cheeky but thoughtful, and each is accompanied by a brief paragraph of explanation." —Southern Oregon Wine Scene

"There are at least two good ways to enjoy this excellent volume: you can come to it as a curious drinker, and be reminded by a new recipe of a great book you want to read (or better yet, reread)—or you can come to it as a reader, sharing in Amira Makansi's literary enthusiasm until you work up a mighty thirst, at which time your cure will already be close at hand. Either way, I hope you'll end up as happily sated as I was." —Matt Bell, author of Scrapper

"Insightful, beautifully written, and [full of] dazzling watercolor illustrations." —Taylor Zajonc, author of The Maw

"Makansi uses the history and themes of famous books to provide humorous but informative drink pairing recommendations . . . The pairings in Literary Libations are cheeky but thoughtful, and each is accompanied by a brief paragraph of explanation." —Southern Oregon Wine Scene

"There are at least two good ways to enjoy this excellent volume: you can come to it as a curious drinker, and be reminded by a new recipe of a great book you want to read (or better yet, reread)—or you can come to it as a reader, sharing in Amira Makansi's literary enthusiasm until you work up a mighty thirst, at which time your cure will already be close at hand. Either way, I hope you'll end up as happily sated as I was." —Matt Bell, author of Scrapper