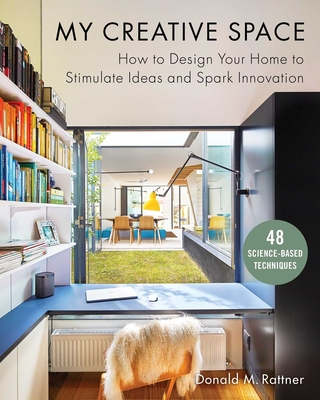 My Creative Space (Hardcover)
How to Design Your Home to Stimulate Ideas and Spark Innovation
Skyhorse, 9781510736719, 288pp.
Publication Date: October 15, 2019
* Individual store prices may vary.
Description
48 Techniques to Boost Your Creativity at Home, According to Science
A great deal of psychological and productivity research has gone into discovering how the design of the physical environment can improve creative performance, yet nearly all of it has focused on the workplace, commercial spaces, and schools. What has been largely overlooked is the one place we spend more time in than anywhere else and where more people than ever are now working: the home.
My Creative Space
shows how readers can boost their creative output by applying science-backed techniques to the design and decoration of their home regardless of size, type, style, or location.
With over 200 stunning color photographs of creative spaces, including many designed by top architects and interior decorators, this lavishly produced book will inspire readers while offering practical and specific ways to transform your own home into a creative haven. Readers will:
Learn practical techniques to shape a home for peak idea generation
Acquire insights into how everyday activities at home can boost creative performance at work, play, and school
Discover hands-on household products designed to foster creative skills
Gain a new understanding of the meaning and psychology of creativity
Read about the best lighting to foster a creative environment, how to use walls to capture ideas, why round shapes spur greater creativity than straight lines, the benefits of incorporating nature into your surroundings, and more.
Whether you're an artist, design professional, writer, entrepreneur, work in a creative industry, or pursue a personal passion for pleasure, this book is an invaluable guide for turning living space into creative space.  
About the Author
Architect Donald M. Rattner, AIA is the principal of an award-winning consultancy dedicated to maximizing occupant creativity in workplace, residential, wellness, hospitality, and retail environments. He works with architects, interior designers, educators, developers, business owners and creatives from all fields. Educator as well as practitioner, Rattner has taught or lectured at the University of Illinois, Parsons School of Design, and New York University, among others. His work and writings have appeared on CNN and in such venues as The New York Times,Robb Report, L-Magazine, and Work Design Magazine. He holds a BA from Columbia and an MArch from Princeton.
Praise For My Creative Space: How to Design Your Home to Stimulate Ideas and Spark Innovation…
"Space matters—a lot! It is the stage on which we play out our lives. This book gives readers tangible tools for creating spaces that foster creative problem solving. This is something we all need!" —Tina Seelig, Professor of the Practice, Stanford School of Engineering, Author of InGenius: A Crash Course on Creativity and What I Wish I Knew When I Was 20
 
"If we want to be creative, we have to make the space to create. Donald Rattner's beautiful book My Creative Space expertly shows how our environments can be engineered for inspiration and innovation. Your home life and your creative work will benefit greatly from this thoughtful manual." —Carolyn Gregoire, writer and co-author of Wired to Create: Unraveling the Mysteries of the Creative Mind
 
"The pleasure in reading My Creative Space is learning that there are simple principles of architectural and interior design that, once applied, can induce and support a more inventive way of thinking, particularly in the setting of one's own home." —Frederick Marks, AIA, President, Academy of Neuroscience for Architecture
 
"When work and home life blend, it can be hard to find a dedicated creative space to do your best work. This book offers a blueprint to build (or just reorganize) one of your most precious resources for new ideas: your home environment." —David Burkus, author of The Myths of Creativity: The Truth About How Innovative Companies and People Generate Great Ideas
 
"Kudos to Donald Rattner. His book My Creative Space offers an intriguing angle on my field of applied environmental psychology. A timely addition to the literature of creativity!" —Sally Augustin, PhD, Principal, Design With Science, Fellow, American Psychological Association
 
"I'll go to any length to give my ideas a better chance of becoming real. My Creative Space has armed me with science-backed tactics for transforming my space to do just that. Whatever your budget or lifestyle, if your creativity is important to you, you owe it to yourself to read this book." —David Kadavy, Author of The Heart to Start and Design for Hackers, host of Love Your Work podcast