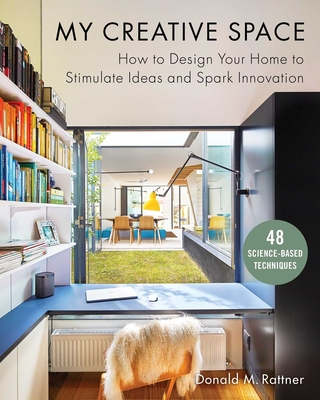 My Creative Space
How to Design Your Home to Stimulate Ideas and Spark Innovation
Hardcover

* Individual store prices may vary.
Description
48 Techniques to Boost Your Creativity at Home, According to Science
Creativity isn't all in your head. Sometimes it's in what's around you—especially when you're at home.
For over twenty years, scientists have been discovering connections between our physical surroundings and the creative mind. Written by a noted architect,
My Creative Space
is the first book to turn this rich trove of psychological research into practical techniques for shaping a home that will boost your creativity.
Here's a sampling of the techniques you'll learn about:
Which colors lead to peak creative performance
How furniture affects idea flow
Pros and cons of messy versus neat environments
Optimal lighting and noise levels for achieving insights
How memorabilia can break creative logjams
Why ceiling height matters
Which scents improve creative problem solving
And more
Illustrating the book's 48 techniques are over 200 high-quality photos of interiors from around the world, many the work of top-tier architects, designers, and creatives.
Whether you pursue creativity for pleasure or profit, whether you're a writer, entrepreneur, work in a creative industry, or simply enjoy doing creative things, this book will help you do them better. No prior expertise in design psychology required!
*Winner, 2019 Gold Medal Award, Nonfiction Authors Association
Praise For My Creative Space: How to Design Your Home to Stimulate Ideas and Spark Innovation…
"I found it fascinating. The idea is that we often use our creativity to decorate our homes and we might also use our homes as places in which to do creative things — cooking, sewing, painting etc, but Rattner has distilled dozens of studies and scientific research to come up with 48 ways in which we can boost our creativity by changing our decor at home." — Mad About the House

"This is an excellent and original book on an unusual topic. It would be useful to anyone trying to solve problems or complete a creative project. Writing a book or illustrating a graphic novel? Solving programming or other analytical problems? Painting a picture or quilting a memory quilt? All of those activities can be assisted by being done in a more creative space." — Diane Reviews Books

"I thought this was a book about interior design and it is, but it's more than that. It's a book on how to be more creative both by making your house more conducive to creative pursuits but also by what you can do personally to inspire creativity. The book is based on science and an explanation for each suggestion is given, backed by research or studies and it's all very fascinating." — SMS Nonfiction Book Reviews

"The photographs shared in the book are amazing and give good ideas and suggestions to readers who are looking for ideas to do up their creative space with a good combination of comfort and style. The author gives worthy suggestions on how to unlock the hidden power of homes to increase creativity and to activate innovation. Reading this book and using the tactics and tips shared in it will help the reader to assess their needs, plan accordingly, exploit underutilized spaces, and make the home environment cozy and comfortable." — Readers' Favorite

"This is an absolutely fantastic book. It's loaded with practical tactics and engaging commentary, alongside beautiful color photos. Each tactic includes suggested ways to boost creativity, along with supporting reasons for doing so and tips for implementation." — Juror, Nonfiction Authors Association
Skyhorse, 9781510736719, 288pp.
Publication Date: October 15, 2019
About the Author
Architect Donald M. Rattner, AIA is the principal of an award-winning consultancy dedicated to maximizing occupant creativity in workplace, residential, wellness, hospitality, and retail environments. He works with architects, interior designers, educators, developers, business owners and creatives from all fields. Educator as well as practitioner, Rattner has taught or lectured at the University of Illinois, Parsons School of Design, and New York University, among others. His work and writings have appeared on CNN and in such venues as The New York Times,Robb Report, L-Magazine, and Work Design Magazine. He holds a BA from Columbia and an MArch from Princeton.