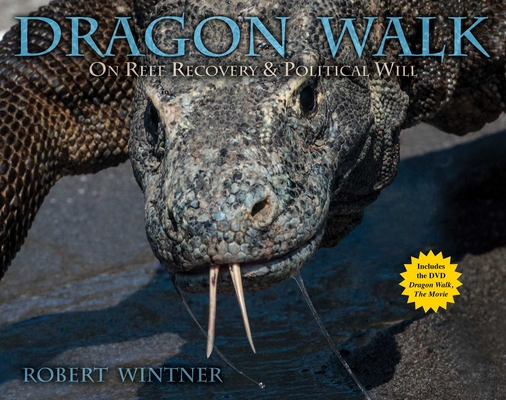 Dragon Walk (Hardcover)
On Reef Recovery & Political Will
Skyhorse, 9781510736733, 332pp.
Publication Date: April 10, 2018
* Individual store prices may vary.
Description
The three main hubs of aquarium trade devastation are Indonesia, the Philippines, and Hawaii. Each has its own sad story of political corruption and theft of natural resources to benefit a greedy, ruthless few. Yet, despite facing a litany of challenges, each hub shows faint hope for progress: with Komodo National Park in Indonesia, a few bright lights in the development of Philippine reef management, and an anti-aquarium campaign taking hold in Hawaii. A beautiful coffee table photo book is one thing. Dragon Walk is a political grenade, willing to name culprits, political assassins, and nitwits with less spinal fortitude than most invertebrates. Dragon Walk is far more vital; a no-holds-barred grapple with evil and reef devastation that shines a light where others fear to tread.
About the Author
Robert Wintner has written twelve well-reviewed novels, including In a Sweet Magnolia Time, which was nominated for both a Pulitzer Prize and a PEN/Faulkner Award. He is an avid snorkeler, diver, and marine photographer, and is the founder of Snorkel Bob's Hawaii. He resides with his wife in Hawaii.
Praise For Dragon Walk: On Reef Recovery & Political Will…
THE BOOK
"Dragon Walk goes to incredible places with skill and artistry in nature's most spectacular environment. 200 million people rely on coral reefs for sustenance as wholesale plunder impacts every human. Robert Wintner's book is a beautiful chronicle showing how political motivation might overcome destructive behavior. With oceans in need, political change must factor the Dragon Walk." —DR. GERRY GOEDEN, director of a Langkawi, Malaysia, reef nursery rehabbing tsunami-damaged reefs
"I've known of Robert Wintner since I bought Snorkel Bob gear twenty years ago, but only recently I learned of his alter ego of gifted writer and photographer with a fierce determination to protect, preserve, and educate on marine life and habitat. Dragon Walk is stunning in beauty and sobering in its message. Wintner is one of the most important voices for marine protection." —DR. JONATHAN BALCOMBE, director for animal sentience at the Humane Society Institute for Science & Policy and the author of What a Fish Knows Paper from responsible sources
THE MOVIE
"Keith Christie's reef footage is amazing and beautiful. He captures the soul of his subjects with great detail and flair." —PAULA FOUCE, producer/filmmaker, Paradise Filmworks
"With a keen eye for reef artistry Keith Christie delivers moving images with rare sensitivity." —DAVID FLEETHAM, reef photographer, Time, Scuba Diver, Diver Magazine, and National Geographic

THE BOOK
"Dragon Walk goes to incredible places with skill and artistry in nature's most spectacular environment. 200 million people rely on coral reefs for sustenance as wholesale plunder impacts every human. Robert Wintner's book is a beautiful chronicle showing how political motivation might overcome destructive behavior. With oceans in need, political change must factor the Dragon Walk." —DR. GERRY GOEDEN, director of a Langkawi, Malaysia, reef nursery rehabbing tsunami-damaged reefs
"I've known of Robert Wintner since I bought Snorkel Bob gear twenty years ago, but only recently I learned of his alter ego of gifted writer and photographer with a fierce determination to protect, preserve, and educate on marine life and habitat. Dragon Walk is stunning in beauty and sobering in its message. Wintner is one of the most important voices for marine protection." —DR. JONATHAN BALCOMBE, director for animal sentience at the Humane Society Institute for Science & Policy and the author of What a Fish Knows Paper from responsible sources
THE MOVIE
"Keith Christie's reef footage is amazing and beautiful. He captures the soul of his subjects with great detail and flair." —PAULA FOUCE, producer/filmmaker, Paradise Filmworks
"With a keen eye for reef artistry Keith Christie delivers moving images with rare sensitivity." —DAVID FLEETHAM, reef photographer, Time, Scuba Diver, Diver Magazine, and National Geographic
or
Not Currently Available for Direct Purchase