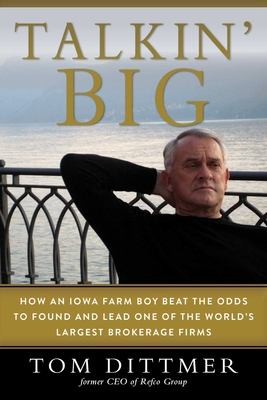 Talkin' Big (Hardcover)
How an Iowa Farm Boy Beat the Odds to Found and Lead One of the Worldas Largest Brokerage Firms
Skyhorse Publishing, 9781510737051, 248pp.
Publication Date: November 27, 2018
* Individual store prices may vary.
Description
"Smokin' cigars and talkin' big," is a favorite tongue-in-cheek phrase, if not pastime, of Iowa farm boy turned commodities tycoon and former Refco chairman Tom Dittmer. The futures business in 1970s Chicago was like the Wild West, and Dittmer was a maverick and gunslinger with the best (and worst) of them. In a place and time like no other in business history, Dittmer was smack in the middle, pushing, shoving, and above all, persevering. Raised by a single mother, young Dittmer had barely the grades to graduate high school, let alone overcome poverty, illness, dyslexia, and a crippling stutter. And yet through sheer determination, Dittmer graduated from the University of Iowa and went on to serve in the US Army's elite 3rd Infantry in Washington, DC, where he was also appointed a White House Social Aide. He soon met and married a smart, beautiful Texan and off they went to Chicago, fortune, and a modicum of fame. By turns hilarious and heartbreaking, occasionally off-color but always colorful, Dittmer tells his story his way: simply and directly in a chain of events that reads more like a movie script than a memoir. With a cast of characters including celebrities, heads of state, fugitives, financiers, Nobel laureates, and no-good scoundrels, Talkin' Big is about living large, winning big, losing badly, and staying true to who you are. With invaluable insights into business and life, Dittmer has the grace and hutzpah to enjoy the whole ride, and you can't help but enjoy it, too.
About the Author
Tom Dittmer was raised in Sioux City, Iowa, and is a graduate of the University of Iowa. Dittmer is a retired commodities brokerage executive. He retired as chairman of Refco Group in 1999, a firm he cofounded. Under his leadership, Refco was one of the first US futures firms to build an international presence. In 2006, Dittmer was inducted into the Futures Industry Association Futures Hall of Fame. He lives with his wife in Los Olivos, California.
or
Not Currently Available for Direct Purchase