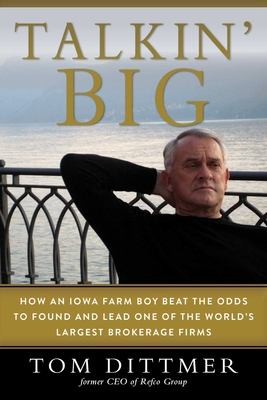 Talkin' Big
How an Iowa Farm Boy Beat the Odds to Found and Lead One of the World's Largest Brokerage Firms
Hardcover

* Individual store prices may vary.
Description
In Talkin' Big, Tom Dittmer—former CEO of Refco, the United States' first world-renowned futures firm—recalls how with hard work, determination, optimism, and some good old-fashioned luck, he was able to able to achieve his greatness.

Growing up as a farm boy in small-town Iowa, Dittmer first made a name for himself as a Lieutenant in the U.S. Army. His industry and potential were quickly noticed, and Dittmer rapidly rose to become a White House aide under Lyndon B. Johnson. After an honorable discharge, Dittmer moved to Chicago with his new wife, Frannie, where he, from the Chicago Union Stockyards, first learned of the wealth of potential that that the Chicago Stock Exchange held.

In 1969, he got into the business world himself, forming Ray E. Friedman & Co., (Refco) with this father. And from there, Dittmer's fortunes only rose. Making millions, taking Refco to the international stage, and hobnobbing with celebrities, Dittmer became a legend in his own right, all while staying true to himself and his Midwest roots.

Brimming with fascinating business insights and incredible inside stories, Talkin' Big is a true rag-to-riches story of one of America's greatest businessmen.
Praise For Talkin' Big: How an Iowa Farm Boy Beat the Odds to Found and Lead One of the World's Largest Brokerage Firms…
"Tom [Dittmer] is known not only for Talkin' Big, but living big—with a mighty laugh, a gargantuan tolerance for risk, a massive smile, a huge frame, and an immense heart. He would use the moniker "Big Dog" for a chosen few of his friends, most of whom are in this book, but he is the Biggest Dog of all." —Louis Bacon, founder, Moore Capital Management "Read it first for the rollicking ride. Read it again for the wisdom. You've never met anyone like Tom Dittmer. This book is big and brave and authentic—the rarest qualities in the world today." —Charlotte Beers, former CEO, Ogilvy Worldwide Advertising; former undersecretary of state for public diplomacy and public affairs "Tom Dittmer's Talkin' Big is a great story and told exceptionally well. It is a fun read about someone I knew so well and yet, it turns out, so little. I highly recommend it." —Leo Melamed, chairman emeritus, CME Group "A very personal journey into a great man's family and life, and a fascinating ride from the corn fields of Iowa to the boardrooms of business. It's all about dedication and love." —Rick Kaplan, president, Kaplan Media Partners; former president, CNN and MSNBC; former executive producer, CBS News; winner of 47 Emmy Awards "Imitation is the sincerest form of flattery, and everyone who knows Tom left his company trying to emulate some part of him. He is larger than life, fiercely loyal to friends, and has a heart of gold. Inspiring, poignant, and laugh-out-loud funny, Talkin' Big is a quintessential American success story." —Chris Sugrue, chairman, The Crowd
Skyhorse, 9781510737051, 272pp.
Publication Date: November 27, 2018
About the Author
Tom Dittmer was raised in Sioux City, Iowa, and is a graduate of the University of Iowa. Dittmer is a retired commodities brokerage executive. He retired as chairman of Refco Group in 1999, a firm he cofounded. Under his leadership, Refco was one of the first US futures firms to build an international presence. In 2006, Dittmer was inducted into the Futures Industry Association Futures Hall of Fame. He lives with his wife in Los Olivos, California.
or
Not Currently Available for Direct Purchase