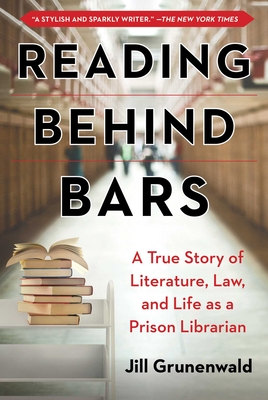 Reading behind Bars
A True Story of Literature, Law, and Life as a Prison Librarian
Hardcover

* Individual store prices may vary.
Other Editions of This Title:
Library Binding, Large Print (9/1/2019)
Description
"A fascinating look into a world many of us never see, and a powerful story about one woman's journey to find her own strength, with a clear message of the importance of books and information for all." —Booklist (American Library Association), starred review

Shortlisted for the 2020 Social Justice & Advocacy Book Award by In the Margins Book Awards.

In December 2008, twentysomething Jill Grunenwald graduated with her master's degree in library science, ready to start living her dream of becoming a librarian. But the economy had a different idea. As the Great Recession reared its ugly head, jobs were scarce. After some searching, however, Jill was lucky enough to snag one of the few librarian gigs left in her home state of Ohio. The catch? The job was behind bars as the prison librarian at a men's minimum-security prison. Talk about baptism by fire.

As an untested twentysomething woman, to say that the job was out of Jill's comfort zone was an understatement. She was forced to adapt on the spot, speedily learning to take the metal detectors, hulking security guards, and colorful inmates in stride. Over the course of a little less than two years, Jill came to see past the bleak surroundings and the orange jumpsuits and recognize the humanity of the men stuck behind bars. They were just like every other library patron—persons who simply wanted to read, to be educated and entertained through the written word. By helping these inmates, Jill simultaneously began to recognize the humanity in everyone and to discover inner strength that she never knew she had.

At turns poignant and hilarious, Reading behind Bars is a perfect read for fans of Orange is the New Black and Shakespeare Saved My Life.
Praise For Reading behind Bars: A True Story of Literature, Law, and Life as a Prison Librarian…
"A fascinating look into a world many of us never see, and a powerful story about one woman's journey to find her own strength, with a clear message of the importance of books and information for all." —Booklist, starred review

"A compassionate perspective on prison life." —Kirkus

"I stayed up all night to finish Jill Grunenwald's utterly engrossing account of her time working in a prison library. It's funny, fascinating, and often moving, and it shines much-needed light into a world most of us will never experience." —Alison Green, author of Ask a Manager

"In her latest memoir, Reading behind Bars, Jill Grunenwald draws her readers into the unique world of a prison librarian in this compelling read." —Marie Benedict, author of The Only Woman in the Room

"Reading Behind Bars shines a light on an important but often ignored corner of the literary world. This book makes you laugh while giving you a fresh perspective on why libraries are crucial in society today. Grunenwald's story is as entertaining as it is enlightening - it's Susan Orlean's The Library Book meets Orange is the New Black. If you're a book lover, don't miss this one. A vital read for 2019." — Mallory O'Meara, bestselling author of The Lady from the Black Lagoon

"Fans of Orange Is the New Black will appreciate this alternate view of life behind bars, and those looking for life changes will find lots of inspiring motivation." —Publisher's Weekly

"I loved this book. Grunenwald is a flinty and funny raconteur of life in the stacks with inmates." —Ann Walmsley, author of The Prison Book Club

"There is not enough literature representing librarians—the guardians of books—or the incarcerated, who are under constant guard. Grunenwald amiably gives voice to both in an important, interesting memoir that celebrates the liberating power of literature and the right to the freedom to read." —Alexandra Robbins, New York Times bestselling author of Fraternity: An Inside Look at a Year of College Boys Becoming Men

 
Skyhorse, 9781510737068, 360pp.
Publication Date: July 2, 2019
About the Author
Jill Grunenwald is the healthy living blogger behind The Year of the Phoenix and host of the Running with a Police Escort podcast, which she launched in June 2015 thanks to the financial support of her Kickstarter backers. A 3x half-marathoner, Jill proudly represents the back of the pack at every race and was an Ambassador for the Cleveland Marathon series in 2015, 2016, and 2017. She has her BFA from Bowling Green State University and her MLIS from the University of Kentucky. Currently, she is employed as a staff librarian at OverDrive, the leading ebook and audiobook app for libraries and schools, where she is also the creator and co-host of the Professional Book Nerds podcast. She lives and works in Cleveland.