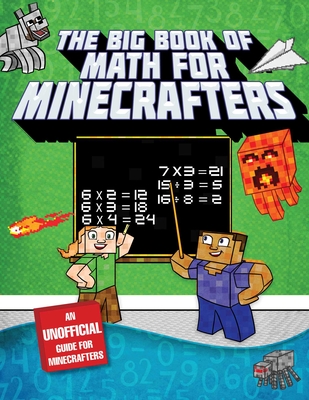 The Big Book of Math for Minecrafters (Paperback)
Adventures in Addition, Subtraction, Multiplication, & Division
Sky Pony, 9781510737594, 384pp.
Publication Date: September 25, 2018
* Individual store prices may vary.
Description
This kid-friendly workbook features well-loved video game characters and concepts to reinforce the development of first through fourth grade math skills laid out in the national Common Core State Standards. Colorfully illustrated puzzles and high-interest, engaging word problems use beloved items from the Overworld like diamond swords, suits of armor, zombies, and magical potions to encourage math practice in even the most reluctant of students. The curriculum-based content covered here includes lessons in:

• Geometric shapes • Telling time • Counting money • Word problems • Understanding fractions and place values • Multiplication and division up to one hundred • And so much more!

Skip to the pages that suit your child's needs and learning style or start at the beginning and advance page by page—it's up to you! As the workbook progresses, the problems become more challenging so that learners of all levels can enjoy an exciting, skill-building math adventure. Containing Math for Minecrafters: Adventures in Addition & Subtraction, Math for Minecrafters: Adventures in Multiplication & Division, Math Facts for Minecrafters: Addition and Subtraction, Math Facts for Minecrafters: Multiplication and Division, Math for Minecrafters Word Problems: Grades 1-2, and Math for Minecrafters Word Problems: Grades 3-4, and perfect for Minecrafters who learn at all paces, The Big Book of Math for Minecrafters is as fun as it is educational. It's just what your little learner needs to get ahead academically!
About the Author
The Sky Pony Press editors work at the children' s book imprint of Skyhorse Publishing, Inc., in New York City.

Amanda Brack is also the illustrator of the Creeper Diaries series and the Jokes for Minecrafters series from Sky Pony Press. She has a passion for drawing and illustration, and enjoys the creativity of working on a wide variety of projects in her freelance career. She lives in Boston, Massachuset