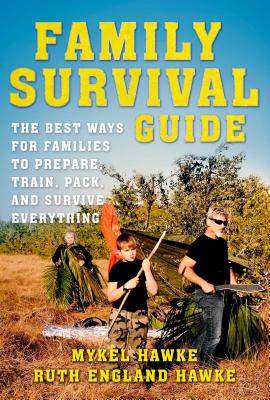 Family Survival Guide
The Best Ways for Families to Prepare, Train, Pack, and Survive Everything
Paperback

* Individual store prices may vary.
Description
Are you prepared in case disaster strikes? Are your kids? In the Family Survival Guide, veteran adventurers Mykel and Ruth Hawke provide the vital information you and your family need to get through almost any disaster safely. The topics covered are wide-ranging and easy-to-follow. Here, you and your family will learn:
How to find, purify, and store water
How to construct different types of shelter and the perfect places to build them
What to pack and what not to pack in a bugout bag
Essential first aid skills
How to navigate your way when lost
How to build a fire
Basic foraging, hunting and outdoor cooking skills
And so much more! Filled with expert advice and time-tested tips, Family Survival Guide is an essential handbook
Skyhorse, 9781510737945, 240pp.
Publication Date: November 20, 2018
About the Author
Mykel Hawke is a Green Beret combat veteran and captain (ret.) in the U.S. Army Special Forces; director of Spec Ops, Inc. (an international outdoor-survival training company); and popular television survival expert from the Discovery Channel's hit shows Man, Woman, Wild and One Man Army. He has also appeared on the History Channel, MTV, Channel 5 in the UK, and more. Mykel holds multiple educational degrees and black belts, has had several medical certifications, and speaks numerous languages. He lives with his wife, Ruth England Hawke and their son.

Ruth England Hawke is a British television presenter and actress. She is the costar in the Discovery Channel show Man, Woman, Wild. She lives with her husband, Mykel Hawke and their son.