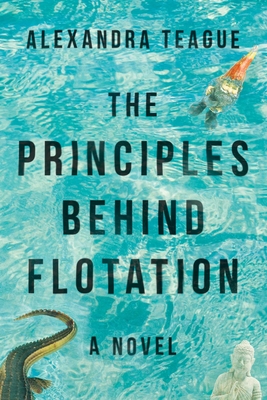 The Principles Behind Flotation
A Novel
Paperback

* Individual store prices may vary.
Other Editions of This Title:
Hardcover (3/7/2017)
Description
Echoing Swamplandial and Tell the Waves I'm Home, a perfect debut for anyone who's navigated the seas of adolescence and lived to tell the tale.

A.Z. McKinney is on the shores of greatness. Now all she needs is a boat.

When the Sea of Santiago appeared overnight in a cow pasture in Arkansas, it seemed to some a religious miracle. But to high school sophomore A.Z. McKinney, it's her chance to make history– as its first oceanographer. All she needs, in the summer of 1989, is to get out on the water. Her plan is easier said than done, since the Sea's eccentric owner is only interested in using it as a tourist destination for beachgoers and devout pilgrims.

A.Z. finally thinks she's found a co-captain and potential boyfriend in the edgy conceptional artist, Kristoff, who seems to want to help her build a boat. But between fighting with her best friend to searching for a tourist-terrorizing alligator (that may or may not be a crocodile) to getting caught between feuding churches and her controling parents, distractions are everywhere. 

With her self-determined oceanic destiny on the line, A.Z. finds herself at odds with everything she thought she knew about life, love, and the Sea. To know the truth about the Sea, and what she wants, A.Z. will have to decide whether to sink or float . . . But which one comes first?
Praise For The Principles Behind Flotation: A Novel…
Praise for The Principles Behind Flotation:

"The Principles Behind Flotation is a riveting, riotous, skillfully crafted tale of too many things to reveal in a sentence. Alexandra Teague writes with a poet's ear and eye, but she sure can sure tell a story, too. This novel can be compared to nothing, because it's so original. It's a nesting-doll of a novel. Moving, suspenseful, and unpredictable. When you're done reading it, you'll be trying to describe it to everyone, and you won't be able to say much more than, 'I can't describe it; you have to read it; you're going to love this book.'" -- Laura Kasischke, bestselling author of Mind of Winter and The Life Before Her Eyes

"A coming-of-age summer on the shores of a vast and inexplicable Ozark sea. A quirky town populated by a cast of eccentric and unforgettable characters. Beautifully written, equal parts hilarious and poignant, this insightful, and stunningly imaginative, novel is a miracle in itself." - Skip Horack, author of The Other Joseph, The Eden Hunter, and The Southern Cross

"If you've read either of Alexandra Teague's two acclaimed poetry collections, then you'll already know how fascinating her mind is, and how gifted her pen. What you might not realize, but will discover, as I did, as soon as you crack the pages of The Principles Behind Flotation, is how quickly and completely she can create an absorbing other life in an absorbing other place, how big-hearted she is, and how funny. I loved this novel and the gentle magic of the Arkansas it creates."
-- Kevin Brockmeier, author of The Illumination

"Set alongside a miracle-induced inland sea in Arkansas, The Principles Behind Flotation is a buoyant, soulful ride through a teenage girl's summer of self-discovery. Alexandra Teague has an ear for sharp, witty dialogue and an eye for the metaphysical reaches of American culture, and her main characters, A.Z. and Kristoff, are as memorable for their brilliant capacity to see beyond their lives as for their funny, flawed love story."
-- Maria Hummel, author of Motherland

"The miracle of Teague's fiction is the way she shines a light on the ordinary matter of life to reveal its mystery and promise. She builds a town of endearing eccentrics, shaped as much by their own stories as their unlikely odds. At the center of it all is Anastasia Zoe, who navigates the shifting waters of identity, meaning, and desire with indomitable hustle and heart."
-- Megan Kruse, Author of Call Me Home

"Slyly funny and full of wonder, The Principles Behind Flotation sails us out on the sea of first love with heart-breaking tenderness, wile, and wit. A.Z. is a character whose frankness and courage are matched only by her moments of intimate vulnerability. Teague navigates the coming-of-age currents with intelligence and compassion, reminding us that we've all been in that strange place of metamorphoses, where nothing is as it seems."
-- Kim Barnes, author of In the Kingdom of Men

"Teague deftly captures like a brain-scan in prose the jittery loping rhythms of adolescent yearning, all turbulent and gut-felt and intensely right now. A.Z. McKinney is a wonderful creation, and Alexandra Teague is a wondrous writer."
-- Daniel Orozco, author of Orientation: And Other Stories

"The Principles Behind Flotation is wryly observed and sharply funny. A.Z. McKinney is an irresistible protagonist and the story of her travails is told with enormous humor and unflinching clarity. This book is a delight."
--Emily Mitchell, author of Viral: Stories
Skyhorse, 9781510739192, 336pp.
Publication Date: January 15, 2019
About the Author
Alexandra Teague is the award-winning author of three books of poetry: Mortal Geography, The Wise and Foolish Builders, and Or What We Call Desire. Recipient of the 2010 California Book Award, a 2006-08 Stegner Fellowship, and a 2011 National Endowment for the Arts Fellowship, Alexandra is an associate professor of creative writing at University of Idaho and lives in Moscow, Idaho.
or
Not Currently Available for Direct Purchase