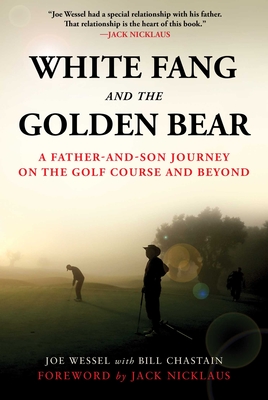 White Fang and the Golden Bear (Hardcover)
A Father-and-Son Journey on the Golf Course and Beyond
Skyhorse, 9781510740167, 224pp.
Publication Date: May 7, 2019
Other Editions of This Title:
MP3 CD (5/7/2019)
Compact Disc (5/7/2019)
* Individual store prices may vary.
Description
"Joe Wessel has a special relationship with his father. That relationship is the heart of this book."—Jack Nicklaus

Augusta National is golf's Holy Grail. Navigating the azaleas to play the exclusive course that hosts The Masters is a pipe dream for every golfer. Imagine being afforded the opportunity not only to play the course, but to be able to bring your father along for the ride. To complete the priceless fantasy, Jack Nicklaus—"The Golden Bear"—hosts the round.

Through fate, coincidence and good fortune, Joe Wessel managed to find a way to make that happen. In White Fang and The Golden Bear, Wessel recounts that special round, how it came about, and what happened on the pristine grounds of Augusta National. With the help of veteran sportswriter Bill Chastain, Wessel's memoir offers the touching story of how the game of golf helped in the development of a special father-son bond and how that relationship grew first throughout Wessel's childhood, then during his tenure as a football player-turned-coach, and finally once he was a dad himself.

This book offers the perfect father-son story for any sports aficionado!

"My father gave me the ultimate lesson on how to be a leader through the discipline he dispatched and by the way he lived his life. Watching him and listening to him gave me an understanding of passion and hard work. You have to be an example to the people you lead. I have strived for that in my coaching career, in my business life, and in my personal life."
About the Author
Joe Wessel is currently a national sales manager for private client banking at RJB. A former defensive back at Florida State, he holds FSU and NCAA records for most blocked punts in a game (2) and most touchdowns scored off blocked punts in a game (2) and in a season (4). Wessel was an assistant football coach for 13 seasons, at the college and NFL levels. He is married to Mary Gayle Hamilton and has two sons. Wessel currently resides in Tampa Florida.

Bill Chastain began his journalism career as a freelance writer shortly after graduating from Georgia Tech in 1979. Chastain is the author of Payne at Pinehurst: The Greatest U.S. Open Ever; Steel Dynasty: The Team That Changed the NFL; and Hack's 191: Hack Wilson and His Incredible 1930 Season. He currently covers the Tampa Bay Rays for MLB.com.

Jack "The Golden Bear" Nicklaus has won a record 18 career major golf tournaments. The five-time PGA Player of the Year was one of the original 13 inductees into the World Golf Hall of Fame.
Praise For White Fang and the Golden Bear: A Father-and-Son Journey on the Golf Course and Beyond…
"Thinking how White Fang got into Joe Wessel's hands to me HAD to be some sort of betting settlement. To [Jack's son] Steve, it was probably just another of the many putters Jack had laying around . . . but to Jack, obviously this particular putter was a bit more 'special.' I'm glad Jack got it back."
—Mark Lye, 18-year PGA Tour player, and 18-year golf analyst at Golf Channel
 
"Hearing the story of White Fang and Joe playing Augusta National with his dad reminds me of the time I played with my son Carter. I've played the course a hundred times, but playing with my son is one of the most memorable experiences."
—David Toms, Professional Golfer, 2001 PGA Champion, 13-time winner on the PGA Tour
 
"I was very lucky to grow up in the shadow of a giant, my father Don Shula. As detailed in this book, Joe and his dad had a wonderful relationship that I enjoyed watching grow for many years."
—Dave Shula, wide receivers coach at Dartmouth College; former NFL coach; and former executive at Shula's Steak Houses, LLLP
 
"Joe has been a lifelong friend. He and I have played a lot of golf over the years, and every time I heard his White Fang story I thought it was one of the best golf stories I have ever heard."
—Skip Holtz, head football coach and assistant for over 30 years
 
"I have been around golf my whole life and Joe's White Fang story is one of the best I've heard. A must read—and not just for golfers!"
—Gary Koch, PGA Tour Professional and Network Golf Analyst