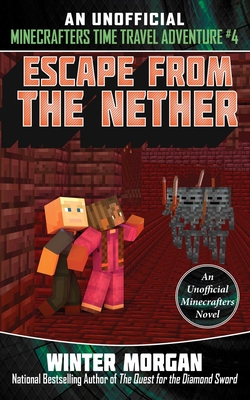 Escape from the Nether (Paperback)
An Unofficial Minecrafters Time Travel Adventure, Book 4
Sky Pony, 9781510741171, 112pp.
Publication Date: April 23, 2019
* Individual store prices may vary.
Description
Bestselling author. What could be more fun for boys and girls that love Minecraft than an original easy-to-read adventure that takes them into the game itself?!?!?

Brett and his friends are running low on ingredients to craft potions and take a trip to the Nether. While gathering Nether Wart and Soul Sand from a fortress, they hear a noise in a room. They enter the room and see a hole in the wall and hear cries coming from the other side. They crawl through the hole to help the unknown person, but wind up in another time period in the Nether.

They have to help someone from the future get home. Using their skills from future time travel adventures, they must help this stranger get home. Will they survive the Nether? Will they get this person home? And should they trust this person who tells them stories about what the world will be like a hundred years in the future?
About the Author
Winter Morgan is the author of numerous children's books including national bestseller The Quest for the Diamond Sword, the bestselling unofficial novel for Minecrafters published by Sky Pony Press. She is the author of five other series for Minecraft fans: an Unofficial Gamer's Adventure, the Unofficial League of Griefers Adventure, the Lost Minecraft Journals, the Unofficial Minecrafters Academy Series, and the Unofficial Minetrapped Adventure. Morgan has a video game-addicted son, who inspires her. She lives in Brooklyn, New York.