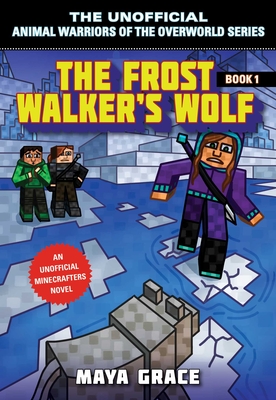 The Frost Walker's Wolf
An Unofficial Minecrafters Novel (Unofficial Animal Warriors of the Overwo #1)
Paperback

* Individual store prices may vary.
Description
Here is a new book offering an exciting adventure. If you love Minecraft, now you can actually experience being in the game itself. Great fun for boys and girls!

Wolves howling. That's all Ella can hear, even through the obsidian walls of her grandmother's mansion. It's as if the wolves are calling to her, begging her for help. Do her cousins, Rowan and Jack, hear it too?

Grandmother warns that the Overworld is full of deadly mobs, but Ella knows she has to go. As she braves the Overworld, she discovers her special gift—her ability to communicate with animals. And she gathers clues about the mother she never knew. But as Ella battles to save the wolves, she realizes that she is in grave danger, too.

Soon, the cousins will not only learn what happened to their parents, but also learn of the danger facing them all. They'll need to call on their special gifts—and their animal friends—to fight back.
Sky Pony, 9781510741331, 112pp.
Publication Date: June 11, 2019
About the Author
Maya Grace dreams of being able to communicate with animals the way Ella, Rowan, and Jack can. She grew up with dogs and cats and learned to ride horses as a teenager—although she's still a little scared of them. Today, Maya settles for taming wolves and ocelots in Minecraft and writing books about animals from her home in Madison, Wisconsin. Her nieces and nephews inspire her love for Minecraft, and her writing buddy, Siddy Cat, keeps her company while she works. Maya volunteers for the Madison Reading Project and seeks to get books in the hands of all young readers.