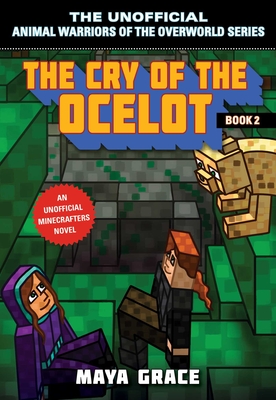 The Cry of the Ocelot
An Unofficial Minecrafters Novel, Book 2 (Unofficial Animal Warriors of the Overwo)
Paperback

* Individual store prices may vary.
Description
The Second Book in an Exciting Series of Adventures for Minecrafters!

Ella and Rowan wake in the dead of night to find their cousin Jack gone. They frantically try to decode the mysterious message he left behind—something about a wounded ocelot and a jungle temple. But Jack would never journey to the jungle on his own . . . would he?

The girls track his path, seeking help from animal friends along the way. But when villagers discover that the cousins can communicate with animals, trouble brews. As the girls approach the temple, Ella can no longer tell who's a friend—and who's a foe. And Jack is nowhere to be found.

THE UNOFFICIAL ANIMAL WARRIORS OF THE OVERWORLD SERIES is an all-new Minecrafter story in which cousins Rowan, Jack, and Ella don't know a thing about their mysterious past—or the powerful gift they've inherited. But something is calling to them from the Overworld outside the walls of their grandmother's twisty mansion. Some things are calling—wolves, ocelots, and other animals that need help fighting the rise of hostile mobs.

As the cousins find the courage to venture out, they discover that they can communicate with those animals. Every adventure adds a piece to the puzzle of their past. Soon, the cousins will learn not only what happened to their parents, but also of the danger facing them all. They'll need to call on their special gifts—and their animal friends—to fight back.
Sky Pony, 9781510741348, 112pp.
Publication Date: August 6, 2019
About the Author
Maya Grace dreams of being able to communicate with animals the way Ella, Rowan, and Jack can. She grew up with dogs and cats and learned to ride horses as a teenager—although she's still a little scared of them. Today, Maya settles for taming wolves and ocelots in Minecraft and writing books about animals from her home in Madison, Wisconsin. Her nieces and nephews inspire her love for Minecraft, and her writing buddy, Siddy Cat, keeps her company while she works. Maya volunteers for the Madison Reading Project and seeks to get books in the hands of all young readers.