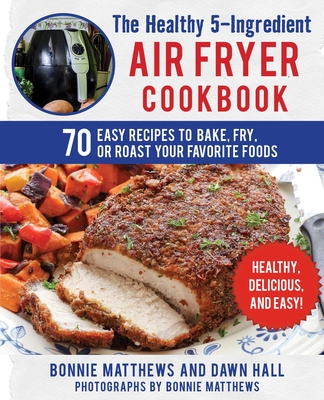 The Healthy 5-Ingredient Air Fryer Cookbook
70 Easy Recipes to Bake, Fry, or Roast Your Favorite Foods
Paperback

* Individual store prices may vary.
Description
Make the most of your air fryer, with quick, nutritious meals and snacks made: French Toast, Teriyaki Chicken, Pita Chips, Vegan Taquitos, Chocolate Cake, and much more.
This exciting, full-color cookbook is an exploration of all that your air fryer can do for you. The authors incorporate a myriad of world flavors with a generous selection of vegetarian and vegan options as well as more traditional comfort foods—all utilizing only a handful of ingredients.
Recipes like Sriracha Shrimp will appeal to sophisticated palates, but there's also a whole chapter of healthy kid-friendly options! Find recipes such as:
Blueberry French Toast Muffins
Teriyaki Chicken with Broccoli and Carrots
Flatbread Veggie Pizzas
Pistachio-Crusted Shrimp with Asian Dipping Sauce
Crispy Cajun Sweet Potato Wedges
Garlic-Parmesan Chickpeas
Chili-Lime Taro Chips
Veggie and Chickpea Nuggets
Gingered Almond Cookies
With the air fryer as your new go-to appliance, you too can discover fresh and easy ways to elevate your meals, whether you're new to cooking or just new to air fryers.
"What the heck is an air fryer anyway? Glad you asked! The air fryer is a unique countertop electric machine that uses circulated hot air to bake and grill foods. It's nothing like an electric deep fat fryer that you fill with cooking oil. Instead, the air fryer requires no deep vat of oil at all; just spray light amounts of cooking spray on foods and insert them into the machine. Because you use very little or no cooking oil, you can create healthier meals without all that extra fat."
Skyhorse, 9781510741591, 176pp.
Publication Date: January 15, 2019
About the Author
Bonnie Matthews is a food photographer, cookbook author, and illustrator. When Bonnie is not creating recipes or photographing food, she's drawing and painting for children's books and magazines. She's illustrated 25 books for children, including the award-winning "What To Do" series. In her spare time, she escapes to tiny islands and snorkels to get inspiration for the characters she draws. She is also the author of The Freekeh Cookbook, Hot & Hip Grilling Secrets, Hot & Hip Healthy Gluten-Free Cooking, and The Eat Your Way Healthy at Trader Joe's Cookbook. She lives in Costa Mesa, California

Dawn Hall is a chef and photographer. Besides catering and working large food festivals, she enjoys spending time with her family at the beach and taking trips on the train. In her spare time, Dawn loves a good power nap or catching a sci-fi movie. She lives with her husband, Jonathan, and twin sons, Solomon and Jameson, in Irvine, California.

Bonnie Matthews is a food photographer, cookbook author, and illustrator. When Bonnie is not creating recipes or photographing food, she's drawing and painting for children's books and magazines. She's illustrated 25 books for children, including the award-winning "What To Do" series. In her spare time, she escapes to tiny islands and snorkels to get inspiration for the characters she draws. She is also the author of The Freekeh Cookbook, Hot & Hip Grilling Secrets, Hot & Hip Healthy Gluten-Free Cooking, and The Eat Your Way Healthy at Trader Joe's Cookbook. She lives in Costa Mesa, California
or
Not Currently Available for Direct Purchase