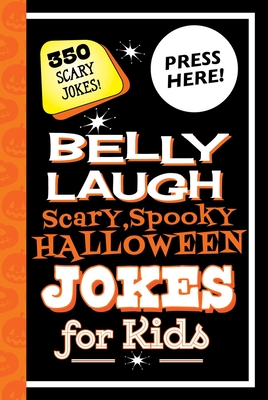 Belly Laugh Scary, Spooky Halloween Jokes for Kids
350 Scary Jokes!
Hardcover

* Individual store prices may vary.
Description
What do skeletons say before they eat? Bone appétit!
What did the ghost wear to the party? A boo-tie!

Halloween is now scarier and funnier than ever with these hilarious and spooky jokes! From snappy one-liners to hilarious stories, this collection is complete with 350 jokes for kids and is complemented by creepy line drawings.

Perfect for long car rides and rainy days, this book is sure to bring laughter and fun into your home.

What do ghosts like for dessert? Ice Scream
What do you call a haunted chicken? A poulter-geist

For kids ages five and up, this book is perfect for home, school, or really anywhere! Also included is a spooky laugh button for added entertainment!
Sky Pony, 9781510741614, 128pp.
Publication Date: September 25, 2018
About the Author
The Sky Pony Press editors work at the children' s book imprint of Skyhorse Publishing, Inc., in New York City.

Alex Paterson is a British illustrator living in Shakespeare's town of Stratford-Upon-Avon. (Shakespeare loved a good fart joke). Alex has illustrated over seventy books including Treasure Island, Oliver Twist and The Faraway Tree. In previous lives he was an army officer and a Jungle leader.