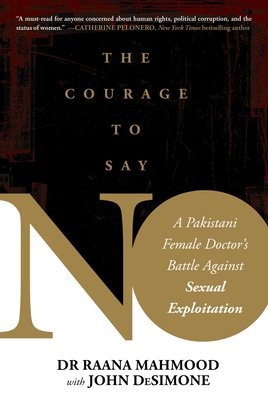 Courage to Say No
A Pakistani Female Doctor's Battle Against Sexual Exploitation
Hardcover

* Individual store prices may vary.
Description
Sexual harassment is in the news almost every day. Countless women have been intimidated into silence or their careers and lives have been ruined because they refused to submit to unwanted sexual advances. Yet, sexual harassment coupled with corruption is not singularly an American affliction. It's an ancient disease, a truly universal tale. Dr. Raana Mahmood's story, Courage to Stay No, is a narrative of standing up against sexual corruption in her home country of Pakistan. It epitomizes the courage, audacity, and determination required to resist becoming a victim in a culture that places little value on divorced women. One that openly allows men to have a second, a third, and a fourth wife, all at a man's pleasure.

After escaping from her husband's physical, verbal, and emotional abuse with her young son in tow, Dr. Mahmood filed for divorce and took up residency as gynecologist at a nearby hospital. After facing years of harassment from her colleagues for being a working woman, and suffering a nervous breakdown because of the vitriol, Dr. Mahmood eventually received a grant of asylum from the United States, where she became an advocate for other women looking to escape domestic violence and an inspiration to those suffering in silence.

In the vein of Reading Lolita in Tehran and Infidel, Courage to Say No is a remarkable and empowering story for our times.
Praise For Courage to Say No: A Pakistani Female Doctor's Battle Against Sexual Exploitation…
"Dr. Raana Mahmood's Courage to Say No depicts in grim detail a culture of sexual oppression and abuse so extreme, it's almost incomprehensible. An important, incisive first-person narrative by a woman who experienced some of the worst victimization imaginable and emerged with her principles intact, her spirit unbroken. A must-read for anyone concerned about human rights, political corruption, and the status of women." —Catherine Pelonero, New York Times bestselling author of Kitty Genovese and Absolute Madness

"A stunning, eye-opening, and ultimately uplifting story of one woman's bravery in the face of unspeakable sexual harassment and corruption. A must-read."  —Michael Levin, New York Times bestselling author 

"Courage to Say No is a remarkable account of one woman's heroism, strength, and courage. It reminds us that while certain kinds of destructive behavior might be widespread, that doesn't make them "normal", and we don't ever have to accept them as fact. Mahmood does a brilliant job of encouraging all of us to stand up and fight." —Laurie A. Watkins, author of the award-winning book Go from Stressed to Strong

"Brave and strong, compassionate and gentle, Raana Mahmood's Courage to Say No is about the power to say YES to our lives and all we are meant to be. Dr. Mahmood's story fearlessly shines a light on the path of personal integrity, the only true path, and is a beacon of inspiration to us all."  —Frances Schultz, author of The Bee Cottage Story

"Dr. Raana Mahmood's story of standing up against sexual corruption in her home country of Pakistan epitomizes the courage, audacity, and determination required to resist becoming a victim. It's a universal story and a must-read now that sexual harassment has become a very public American sickness." —Leticia Gomez, author of Live Like You are Dying 

""Dr. Mahmood has written an extraordinarily important book. Brave and forthright, she has weaved her personal story into a remarkably compelling narrative that ought to be required reading for anyone with an interest in women's rights. And not just in the Asia and Middle East. Dr. Mahmood has written a book for women everywhere." —Jerry Payne, author of Writing Memoir

"Raana Mahmood is an inspiration to the long subjugated Women of the World. Her story is one of frightening suppression. Yet, it speaks of hope." —Beth K. Lamont, president of The Humanist organization
Skyhorse, 9781510742246, 240pp.
Publication Date: September 3, 2019
About the Author
Dr. Raana Mahmood , a citizen of Pakistan, graduated from Peoples' Medical College in Nawab Shah, Sind, Pakistan with a specialization is gynecology. After years of suffering domestic abuse and sexual assault at the hands of her husband, she eventually fled her home with her young son. Over the next two decades, Dr. Mahmood worked tirelessly helping many impoverished and neglected people obtain quality medical care. She wrote articles for the English and Urdu newspapers and magazines on elderly and women's issues. In 2002, she received a fellowship from Federation of World Love and Peace at the U.N. In 2004, she was the recipient of a fellowship from ASHOKA International in the US. She is currently working with several organizations in New York, including the UN, ICNA, Humanist Organization, Scholars at Risk, HIAS, JASA, Upwardly Global, Dress for Success, Health Right International, Ashoka International, FOWPOL, Libertas Center, The Friedlander Group, and Make The Road. She lives alone in New York and continues to advocate for women's rights to be free from sexual harassment at every opportunity.

John DeSimone spent twenty plus years working in corporate marketing and sales. He escaped corporate life in 1999, when he began freelancing editing with A-1 Editing Services in Oregon. In 2004, he completed an MFA in Creative Writing from Spalding University in Louisville, KentuckyAs a ghostwriter, he's written several self-help books, and then completed a memoir for Natalie Suleman, Octomom. John taught freshman writing from 2008 to 2011 as an adjunct professor at Biola University. In May 2012, he won a Norman Mailer Fellowship and lived on Cape Cod for a month where he completed a draft of his novel, Road to Delano. He's written memoirs for Bob Filner, Lizanne Falsetto, and several others.
or
Not Currently Available for Direct Purchase