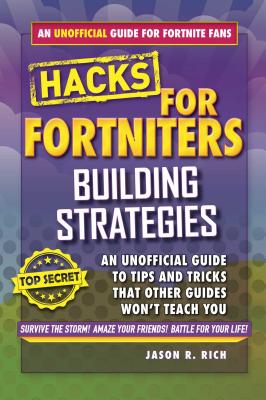 Hacks for Fortniters (Hardcover)
Building Strategies: An Unofficial Guide to Tips and Tricks That Other Guides Won't Teach You
Sky Pony, 9781510743380, 144pp.
Publication Date: September 25, 2018
Other Editions of This Title:
Hardcover (10/23/2018)
* Individual store prices may vary.
Description
Fortnite Battle Royale Hacks: Building Strategies will demonstrate how to build a variety of customized structures, as well as offer fortress design ideas utilized by pro players. Step-by-step building instructions, along with full-color screenshots and strategies for choosing the right building materials and building locations, are provided within this invaluable resource.

In addition to these building strategies, this full-color, unofficial strategy guide will also provide hundreds of tips and tricks for surviving and winning each match. To survive, a player must simultaneously handle several key tasks, including:


Exploration of the Island
Finding, Collecting, and Using Weapons
Finding, Collecting, and Using Loot Items
Gathering and Using Resources
Engage in Combat Against Enemy Soldiers
Avoid the Deadly Storm
Building Structures and Fortresses

Targeted to readers age 8 and up, this unofficial guide will provide a comprehensive overview of the Fortnite Battle Royale game, regardless of which gaming platform the reader is using. An emphasis, however, will be placed on teaching expert building strategies that can be used throughout each match. An entire section of the book will include End Game fortress building strategies that will appeal to beginner and expert players alike.
About the Author
Jason R. Rich (www.JasonRich.com) is an avid gamer and the author of more than two dozen full-length computer and video game strategy guides. He's also contributed thousands of game reviews and articles to national magazines and websites, and has worked as a consultant to some of the world's biggest computer and video game developers and publishers. Follow him on Twitter/Instagram (@JasonRich7).