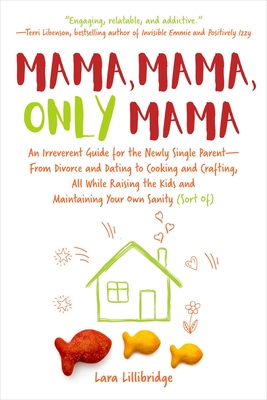 Mama, Mama, Only Mama
An Irreverent Guide for the Newly Single Parent—From Divorce and Dating to Cooking and Crafting, All While Raising the Kids and Maintaining Your Own Sanity (Sort Of)
Hardcover

* Individual store prices may vary.
Description
"Laugh-out-loud amusing and all-around entertaining." —Library Journal

"One of the best new parenting ebooks." —BookAuthority

A Single Mom Shares Her Inspiring and Hilarious Tales of Parenting, Full of Love, Advice, and Humor

Being a single mother means relaxing your cleanliness standards. A lot. Being a single mother means missing your kids like crazy when your ex has them, only to want to give them back ten minutes after they come home. Being a single mother means accepting sleep deprivation as a natural state. Being a single mother means hauling a toddler, a baby, and a diaper bag while wearing high heels and a cute skirt, because you never know when you'll meet someone. Being a single mother means finding out you are stronger than you ever knew was possible.

Since birth, Lara Lillibridge's children wanted, "Mama, Mama, only Mama!" whether they were tired or just woke up from a nap—whether they were starving or had just finished a bowl of goldfish crackers. Over ten years later, not much has changed. Between hilarious episodes and candid stories, Lillibridge offers the bits of advice and enlightenment she's gained along the way and never fails to commiserate on the many challenges that come with raising children in a non-nuclear family. This creative, touching memoir will resonate with single moms everywhere, whether solo parenting is new territory or well-trodden ground for them.

Written in the style of a diary with blogs, articles and recipes tucked between the pages, Mama, Mama, Only Mama follows Lillibridge and her two children, Big Pants and Tiny Pants, out of divorce, through six years of single parenting, and into the family blender with a quasi-stepfather called SigO. Complete with highly useful recipes such as congealed s'more stew, recycled snack candy bars, instant oatmeal cookies and a fine chicken casserole that didn't pass Tiny Pants's "lick test," Lillibridge grows into her role as mother, finds true love, and comes to terms with her ex-husband.
Praise For Mama, Mama, Only Mama: An Irreverent Guide for the Newly Single Parent—From Divorce and Dating to Cooking and Crafting, All While Raising the Kids and Maintaining Your Own Sanity (Sort Of)…
"Laugh-out-loud amusing and all-around entertaining." —Library Journal

"A frank and valuable remembrance, and a good coping manual for parents." —Kirkus Reviews

"One of the best new parenting ebooks." —BookAuthority

"While your kids will always be at the top of your list, you shouldn't feel bad for wanting an adult personal life of your own. Lara Lillibridge, author of Mama, Mama, Only Mama, explains why trying to find romance can actually benefit your children in the long run." —O, The Oprah Magazine

"Mama, Mama, Only Mama is engaging, relatable, and addictive. All sorts of parents will love this unforgettable memoir. Since I'm the sort that enjoys belly laughs, it's the perfect fit." —Terri Libenson, syndicated cartoonist of The Pajama Diaries and bestselling author of Invisible Emmie and Positively Izzy

"Lara Lillibridge's memoir, Mama, Mama, Only Mama, is a raw, honest, and very relatable tale of motherhood. I laughed, I cried, I shook my fist in solidarity. All moms out there need to read this one, even if your kids are grown or still in egg form. You won't regret it!" —Whitney Dineen, author of Motherhood, Martyrdom & Costco Runs

"Mama, Mama, Only Mama is hilarious, achingly real, and one of those books that will end up being passed around the carpool line. You'll crack up, you'll relate, you'll wish you could hang out at Lara Lillibridge's house on Saturday afternoons." —Lisa Daily, bestselling author of Single-Minded

"A delicious, open-hearted, delightful collection." —Erin Judge, stand-up comedian and author of Vow of Celibacy

"An absolute must for single parents, at any stage. Lara Lillibridge's memoir, Mama, Mama, Only Mama, is hilarious, sweet, and hopeful. As a single mum myself, I could relate to almost every word—each page gave me strength, made me laugh and cry, and reminded me of what is important." —Shannon Leone Fowler, author of Traveling with Ghosts

"Real, raw and ridiculously funny—Lara is the unabashedly honest mum we've all been waiting for." —Amy Baker, author of Miss-Adventures: A Tale of Ignoring Life Advice While Backpacking Around South America
Skyhorse, 9781510743564, 320pp.
Publication Date: May 7, 2019
About the Author
Lara Lillibridge sings off-beat and dances off-key. She is a graduate of West Virginia Wesleyan College' s MFA program in creative nonfiction. In 2016, she won the Slippery Elm Literary Journal' s Prose Contest, American Literary Review' s Creative Nonfiction Contest, and was a finalist in both Black Warrior Review' s Nonfiction Contest and Disquiet' s Literary Prize in Creative Nonfiction. Lara resides in Cleveland, Ohio.