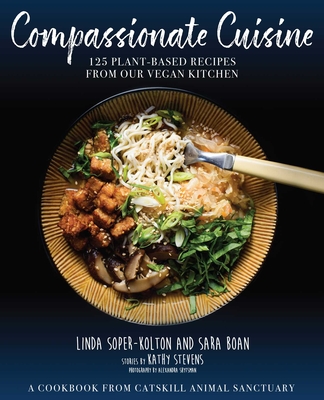 Compassionate Cuisine
125 Plant-Based Recipes from Our Vegan Kitchen
Hardcover

* Individual store prices may vary.
Description
Selected as one of PETA's must-have vegan cookbooks of 2019! Vegan recipes and heartwarming stories for animal lovers, from the Catskill Animal Sanctuary.
Add love and stir! Written with love and authenticity,
Compassionate Cuisine
tells the story of one of the country's oldest and most respected animal sanctuaries through its food. With humor and heart, Chef Linda Soper-Kolton and Chef Sara Boan, Catskill Animal Sanctuary's vegan chefs, bring the Sanctuary's culinary program, Compassionate Cuisine, to life through an array of recipes intended to inspire and delight. Their recipes have been savored and devoured by thousands of visitors to the Sanctuary, and they want to share them with the world. Interwoven with the recipes are the animals. Sanctuary founder and director Kathy Stevens writes for the voiceless many for whom the Sanctuary works so fervently to share the good news about how wonderful–and important–it is to consider compassion first when we eat.
Find diverse recipes such as:
Blueberry Praline French Toast Casserole
Homestead Granola and Vanilla Nut Milk
Avocado Tartines with Peach Salsa
Buffalo Cauliflower with Blue Cheese Dressing
Chipotle Sweet Potato Stew with Lime Cashew Crema
Thai Burgers with Spicy Peanut Sauce
Moroccan Vegetable and Chickpea Tagine
Chocolate Chip Cookie Dough Truffles
And many more!
Catskill Animal Sanctuary wants the world to go vegan. It's who they are. It's what they do. It's why hundreds of rescued farm animals call their place home. And it's why they open their gates to thousands of visitors each year. Now, home cooks everywhere can enjoy the same delicious and compassionate cuisine served at the Sanctuary, and read about the people and animals that make the Catskill Animal Sanctuary such a special place.
Praise For Compassionate Cuisine: 125 Plant-Based Recipes from Our Vegan Kitchen…
"Brought to you by the chefs of Catskill Animal Sanctuary, this collection of innovative recipes also includes inspiring stories about the animals who call the sanctuary home."
—PETA, selected as one of their must-have vegan cookbooks of 2019

"Compassionate Cuisine proves there is zero sacrifice in switching to a healthy, environmentally conscious, compassionate way of eating because the food is fantastic! These recipes can go head to head with any animal-based dish and will win! They're that delicious! An added bonus is learning about all the lives you're sparing and the suffering you're preventing. Bottom line: this book will revolutionize your life!"
—Jane Velez-Mitchell, New York Times–bestselling author and journalist
 
"This book will be valuable 'food for thought' for anyone who's ever thought about going vegan. Approachable, accessible, delicious—these recipes belong in everyone's kitchen. This cookbook is a great introduction to vegan cooking and cuisine and will start you on the road to health and vitality while helping to make the world a safer and more humane place for of the Earth's inhabitants. Kudos to Catskill Sanctuary for an outstanding cookbook.
—Dr. Milton Mills, associate director of preventive medicine with the Physicians Committee for Responsible Medicine
 
"The Catskill Animal Sanctuary's cookbook isn't just compassionate food; it's health, fitness, and energy food! If you're looking to get in shape or reclaim your health with a plant-powerful diet, Chef Linda and Chef Sara's hearty, delicious recipes are the way to go."
—Matt Frazier, vegan ultramarathoner and author of No Meat Athlete and The No Meat Athlete Cookbook

"When I met Kathy Stevens in 2003, I was struck by her unhesitating willingness to drop everything to help uplift another soul. The woman has an uncanny ability to enter into the heart of another, whether human, horse, pig, sheep, duck, or dog. She lives with love, and she passes that loving ethic on to all who have joined her to grow and maintain Catskill Animal Sanctuary—a magical oasis where all are welcomed and no one is judged. This is the Sanctuary's much-awaited cookbook, filled with recipes from the heart which prove that veganism is synonymous with love."
—Sharon Gannon, founder of Jivamukti Yoga Method
 
"We've heard that food is love, and these nourishing, comforting, compassionate recipes are love in action. Prepping and serving these dishes will feed your soul—and the animal stories will delight you and your family before the banana bread is even out of the oven."
—Victoria Moran, author of Main Street Vegan, host of Main Street Vegan Podcast
 
"In Compassionate Cuisine the reader becomes versed in the meaning of compassion. . . . This vegan cookbook is not just about cooking and food. It is about saving the lives of animals. This cookbook examines the animal rights movement and their endeavors to save the lives of abused animals while providing delicious vegan recipes for the reader and the cook. . . . Their cuisine is delectable, delicious, and appealing. . . . Written with loving care in honor of the many animal lives that have been saved."
—New York Journal of Books

"Catskill Animal Sanctuary has long had a place in my heart for the work they do with rescued farm animals, so it's thrilling that they now have a cookbook of their own. Learn what drives their compassionate mission, and enjoy these delicious recipes created by their talented chefs!"
—Nava Atlas, author of 5-Ingredient Vegan and Vegan Holiday Kitchen
 
"Catskill Animal Sanctuary has written a cookbook that is filled with tasty, approachable, and nutritious recipes. The delightful cherry on top is the stories about their beloved animal residents. It's a cookbook to nourish your belly and your soul!"
—Jenné Claiborne, founder of SweetPotatoSoul.com and author of Sweet Potato Soul
 
"Compassionate Cuisine aims to share delicious, healthy, comfort food with a compassionate outlook that will make a difference in our lives, the lives of animals, and the planet!"
—The Kind Life

"Epic vegan recipes that will satisfy you and blow the minds of your friends and family. Combined with the fascinating stories of animals who escaped execution at Catskill Animal Sanctuary, this is one cookbook that will open your mind to more than just a bunch of amazing, new recipes."
—James Aspey, speaker and activist
Skyhorse, 9781510744370, 256pp.
Publication Date: May 21, 2019
About the Author
Linda Soper-Kolton graduated from the Natural Gourmet Institute for Health and Culinary Arts, with a certification from the Institute for Integrative Nutrition as a holistic health coach. In 2012, she came to Catskill Animal Sanctuary as a guest chef, teaching Compassionate Cuisine cooking classes and leading and growing the culinary program, inspiring and educating with love, patience, and delicious food. Seven years later, she continues to strategize, teach, blog, and kiss pigs. She owns her own vegan café in Fairfield, Connecticut.

Sara Boan has been a vegan chef and culinary instructor at Catskill Animal Sanctuary since 2016. Sara holds degrees and certificates from Ohio University, The Natural Gourmet Institute for Health and Culinary Arts, and the Academy of Culinary Nutrition. Sharing her passion for delicious plant-based foods and living a compassionate vegan lifestyle are the great joys in her life. When she's not cooking, you can find her knitting and spinning with vegan fibers, snuggling with her cats, and spending time with her partner. Sara lives in Peekskill, New York.

Kathy Stevens in 2001, co-founded Catskill Animal Sanctuary, where her love of teaching, her belief that education has the power to transform, and her love of animals come together. Kathy is the author of Where the Blind Horse Sings and Animal Camp, two critically and popularly-acclaimed books about the work of Catskill, and a frequent contributor to books, podcasts, and articles on animal sentience, animal rights, and veganism. She takes her message of kindness to all beings and the urgent imperative of veganism to conferences and colleges in the US and Canada. Kathy lives on the grounds of Catskill in Saugerties, New York, with her dogs Chumbley and Scout, and kisses many critters every day.

Alexandra Shytsman is a food photographer, recipe developer, and blogger at The New Baguette. She lives in Syracuse, New York.
or
Not Currently Available for Direct Purchase