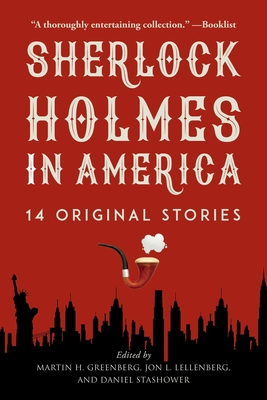 Sherlock Holmes in America (Paperback)
14 Original Stories
Skyhorse, 9781510744417, 384pp.
Publication Date: July 9, 2019
Other Editions of This Title:
Paperback (11/1/2009)
* Individual store prices may vary.
Description
The world's greatest sleuth makes his American debut in this groundbreaking collection of never-before-published mystery stories set in the US.
The world's greatest detective and his loyal sidekick Dr. Watson are on their first trip across the Atlantic—to nineteenth-century America! From the bustling neighborhoods of New York City and Boston to sinister locales like Salt Lake City and fog-shrouded cities like San Francisco, the beloved British sleuth faces the most cunning criminals America has to offer, while meeting some of her most famous figures along the way, such as Teddy Roosevelt and Harry Houdini.
A groundbreaking anthology,
Sherlock Holmes in America
features original short stories by award-winning American writers, each in the extraordinary tradition of Conan Doyle, and each with a unique American twist that is sure to satisfy and exhilarate both Sherlock Holmes purists and those who wished Holmes could nab the nefarious closer to home. There is:
"The Adventure of the Missing Three Quarters" by Jon L. Breen
"The Adventure of the Coughing Dentist" by Loren D. Estleman
"The Case of Colonial Warburton's Madness" by Lyndsay Faye
"The Minister's Missing Daughter" by Victoria Thompson
"The Adventure of the White City" by Bill Crider
And more!
This is a must-read for any mystery fan and for those who have followed Holmes' illustrious career over the waterfall and back again.
About the Author
Martin H. Greenberg has been called "the best anthologist since Ellery Queen." He's the most prolific anthologist in publishing history and recipient of the Ellery Queen Award for life achievement in editing from the Mystery Guild of America. He is also one of the editors of Vampire Stories by Sir Arthur Conan Doyle. He lives in Green Bay, Wisconsin.

Jon L. Lellenberg is the US agent for the Conan Doyle estate and the editor of The Baker Street Irregulars archival history series. He lives in Chicago, Illinois.

Daniel Stashower is an award-winning mystery novelist and the author of A Teller of Tales: The Life of Arthur Conan Doyle. He lives in Bethesda, Maryland.
Praise For Sherlock Holmes in America: 14 Original Stories…
"Showcasing fourteen never-before-published offerings from a slew of mystery writers, Sherlock Holmes in America transports the detecting duo across the Atlantic to solve an array of quandaries set in the United States. Diverse in tone, the stories are consistently entertaining."
—School Library Journal
"Fans of Sherlock Holmes will welcome the fourteen new stories in this solid anthology."
—Publishers Weekly

"It seems there is a never-ending supply of new material to provide Sherlock Holmes addicts with their latest fix. This one is interesting because its setting, the U.S., is a place in which (as Holmes fans know) the master detective has always had a great deal of interest. This volume, edited by veteran genre anthologist Greenberg, brings together more than a dozen stories set in such American locales as New York, St. Louis, San Antonio, Salt Lake City, and Youngblood, Arizona. Holmes takes on a variety of cases, from a missing violin to chicanery in the world of sports, meeting along the way such notables as Wyatt Earp, Doc Holliday, Harry Houdini, and Teddy Roosevelt. The stories, by such well-known writers as Loren Estleman, Matthew Pearl, Bill Crider, and Jon Breen, are uniformly very good, with occasional flashes of genius. And, best of all, they aren't pastiches or painfully faithful re-creations of Conan Doyle's writing style; each is told in the writer's own voice but still captures the spirit of the Holmes stories. A thoroughly entertaining collection."
—Booklist

"Showcasing fourteen never-before-published offerings from a slew of mystery writers, Sherlock Holmes in America transports the detecting duo across the Atlantic to solve an array of quandaries set in the United States. Diverse in tone, the stories are consistently entertaining."
—School Library Journal
"Fans of Sherlock Holmes will welcome the fourteen new stories in this solid anthology."
—Publishers Weekly
"It seems there is a never-ending supply of new material to provide Sherlock Holmes addicts with their latest fix. This one is interesting because its setting, the U.S., is a place in which (as Holmes fans know) the master detective has always had a great deal of interest. This volume, edited by veteran genre anthologist Greenberg, brings together more than a dozen stories set in such American locales as New York, St. Louis, San Antonio, Salt Lake City, and Youngblood, Arizona. Holmes takes on a variety of cases, from a missing violin to chicanery in the world of sports, meeting along the way such notables as Wyatt Earp, Doc Holliday, Harry Houdini, and Teddy Roosevelt. The stories, by such well-known writers as Loren Estleman, Matthew Pearl, Bill Crider, and Jon Breen, are uniformly very good, with occasional flashes of genius. And, best of all, they aren't pastiches or painfully faithful re-creations of Conan Doyle's writing style; each is told in the writer's own voice but still captures the spirit of the Holmes stories. A thoroughly entertaining collection."
—Booklist