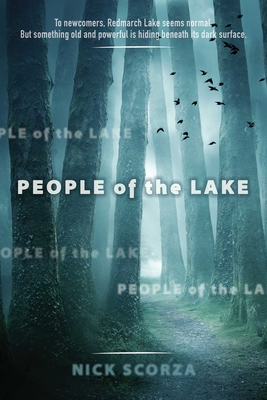 People of the Lake
Hardcover

* Individual store prices may vary.
Description
An enthralling, historically rich, small-town mystery in which a teen works with her deceased sister to solve an assumed murder.

Sixteen-year-old Clara Morris is facing an awkward summer with her father in the tiny upstate town of Redmarch Lake. Clara's relationship with her parents—and with life in general—has been strained since she lost her twin sister, Zoe, when the girls were eight. As a child, her sister had been her whole world—they even shared a secret invented twin language. Clara has managed to rebuild herself as best she can, but she still feels a hole in her life from the absence of her twin, and she suspects she always will.

She soon finds that Redmarch Lake, where her father's family has lived for generations, is a very unusual place. The townspeople live by odd rules and superstitions. The eerily calm lake the town is named for both fascinates and repels her. The town's young people are just as odd and unfriendly as their parents. Clara manages to befriend the one boy willing to talk to an outsider, but he disappears during a party in the woods.

The next day, he is found dead in the lake under mysterious circumstances. The townspeople all treat this as a tragic accident. Clara isn't buying it, but she doesn't know what to do until she receives a mysterious note hinting at murder—a note written in the language she shared with her twin sister, Zoe.
Praise For People of the Lake…
"Part ghost story, part mystery . . . the author excels at creating a tense, foreboding atmosphere. . . . The tension steadily builds up to a cinematic twist ending that readers will enjoy." —Booklist

"A haunting small town mystery where not all is as it seems. With an atmospheric lake-side setting paired with the perfect blend of horror and supernatural, I couldn't read it quick enough." —Kate Ormand, author of Dark Days and The Wanderers

"Clara Morris is the best kind of hero—smart, flawed, and a little too brave for her own good—and what happens to her one summer at Redmarch Lake makes for one of the most original and gripping YA novels I've read in a long time. At turns scary, romantic, and heartbreaking, People of the Lake is a mystery you'll want to read into the early morning hours." —Holly Goddard Jones, author of The Salt Line

"SO horribly creepy and exciting . . . My biggest advice to anyone reading this book is to NOT read it at night!" —Alma Ramos-McDermott, school librarian and 2019 John Newbery committee member

"An engaging story linked to a mirrored, paranormal realm . . . A good ghost story." —Kirkus Reviews
Sky Pony, 9781510745162, 312pp.
Publication Date: October 15, 2019
About the Author
Nick Scorza has always loved getting lost in the woods or the city. He has been a bookseller, a construction worker, a freelance writer, and an English teacher in the Czech Republic. He currently lives in, and works for, the City of New York. This is his first novel.
or
Not Currently Available for Direct Purchase