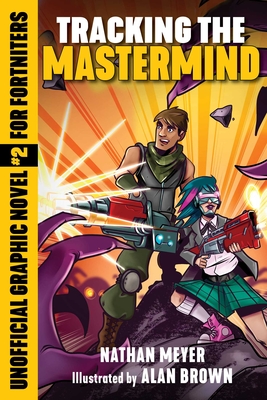 Tracking the Mastermind
Unofficial Graphic Novel #2 for Fortniters (Storm Shield #2)
Paperback

* Individual store prices may vary.
Description
The second book in an exciting new series of Fortnite graphic novels

Idris, Kiki, Sarah, and Cody are known as The Stonewood Survivors. After launching a comm-satellite to serve as a beacon for others lost on the Island, they're hailed as heroes.

But heroes' work never ends.

Core to their mission of survival is uncovering information about the founder of the shadowy corporation, Vindertech. This they know: Dr. Vinderman is the mastermind behind a host of wonder weapons that includes Ray the Robot and, more importantly, humanity's last hope for survival, the Storm Shields. What they don't know is whether Dr. Vinderman is working for or against them.

To get to the truth, they must paraglide over herds of ravenous Husks and Mist Monsters, land on the roof of Vindertech Research Labs, save the supercomputer servers housed there, and discover Dr. Vinderman's location.

Nothing happens as planned, and soon they are trapped in a deadly game of hide and seek. Hunted by the maniacal sniper known as Teddy Bear, they enter storm-wracked Plankerton where, if they're not slaughtered by mutant fiends, they just might save the world—assuming they don't kill each other first!
Sky Pony, 9781510745216, 160pp.
Publication Date: October 29, 2019
About the Author
Nathan Meyer is a freelance writer with more than fifteen traditionally published novels in the work-for-hire, media tie-in, and ghostwriting fields. He's worked on various projects with gaming companies Wizards of the Coast, Green Ronin Games, and Privateer Press, as well as publishers such as Alloy Entertainment, Working Partners UK, Relay Publishing, and HarperCollins/Harlequin.

Alan Brown is a freelance artist and designer who has worked for Disney, Warner Bros., the BBC, and others. His work can be found in comics such as Ben 10 and Bravest Warriors, as well as several children's books. He lives in Newcastle upon Tyne, UK.